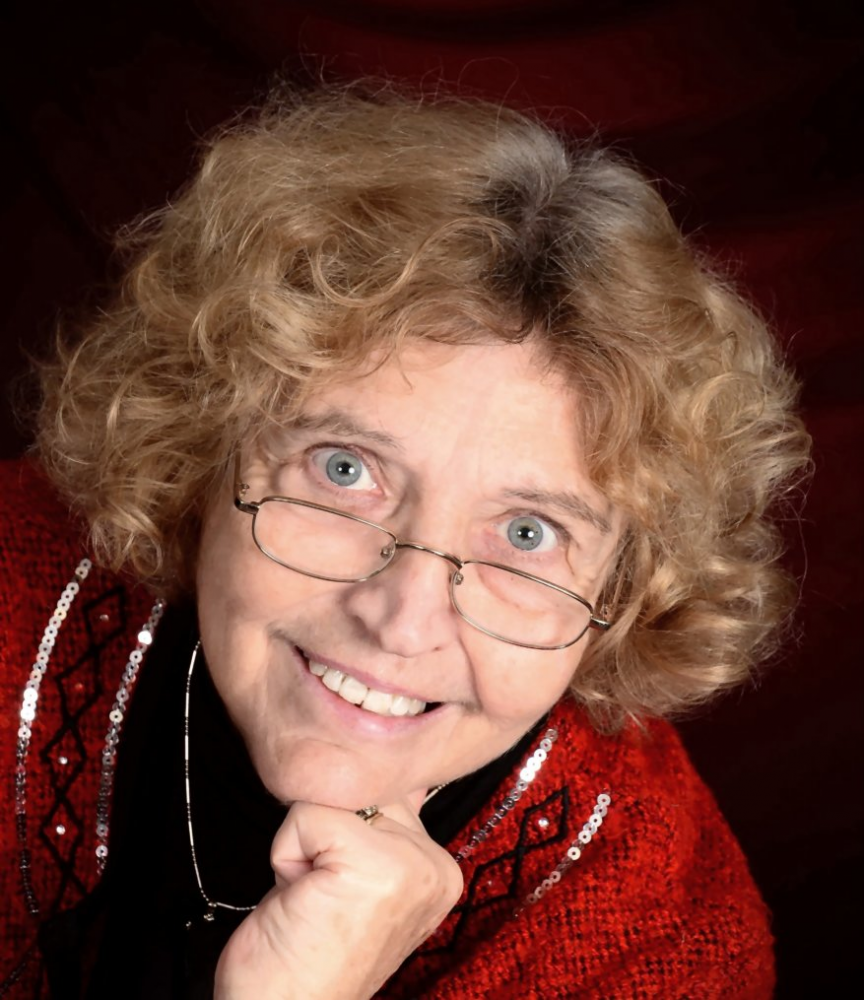 A Word from CCWC's Director     2017




Marlene Bagnul

l, Litt.D.

I love watching Father work! 

The faculty (click here) of 56 for our May 17-20, 2017, conference are all confirmed. That number includes 8 agents, 20 editors, 15 other professionals, and 13 authors although you'll see many in the other groups are also authors. Thank You, Father, for providing a great faculty.

Thanks to our extraordinary Appointments Coordinator, Barb Haley, today (March 8) I'm posting charts (see sample below) that detail the editorial needs/interests of our 20 editors and 8 agents. You'll find a 3-page chart for fiction, 3-page chart for nonfiction, and 2-page chart for children and YA. All are downloadable as PDFs with live links to the bios.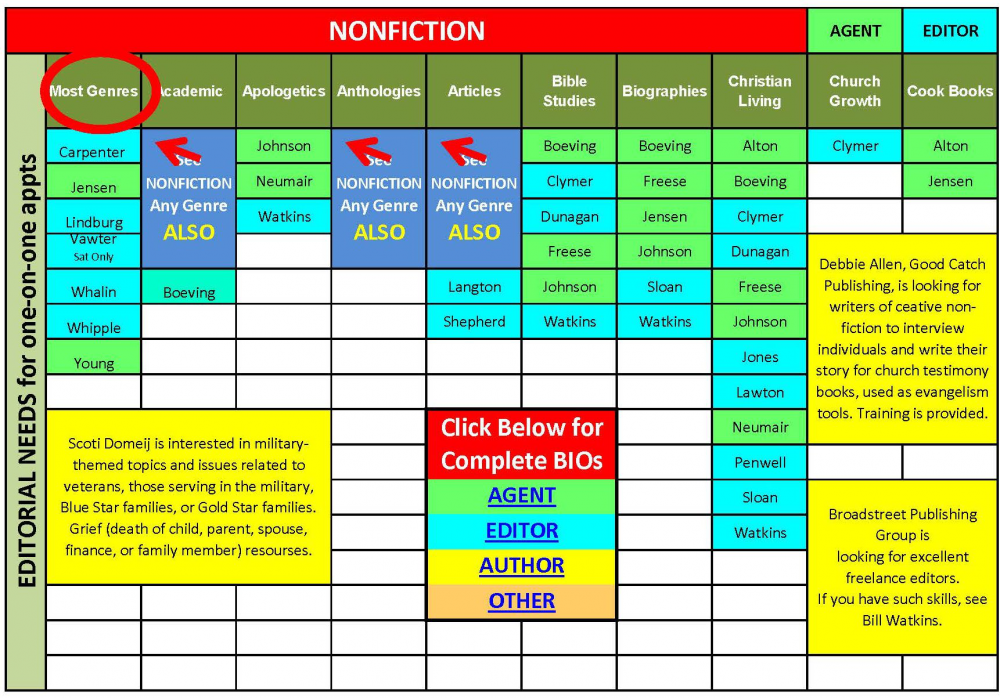 Because our authors and other professionals are often the best people to talk to about a work in progress, I'm also posting charts that show their areas of expertise in fiction, nonfiction, and children/YA.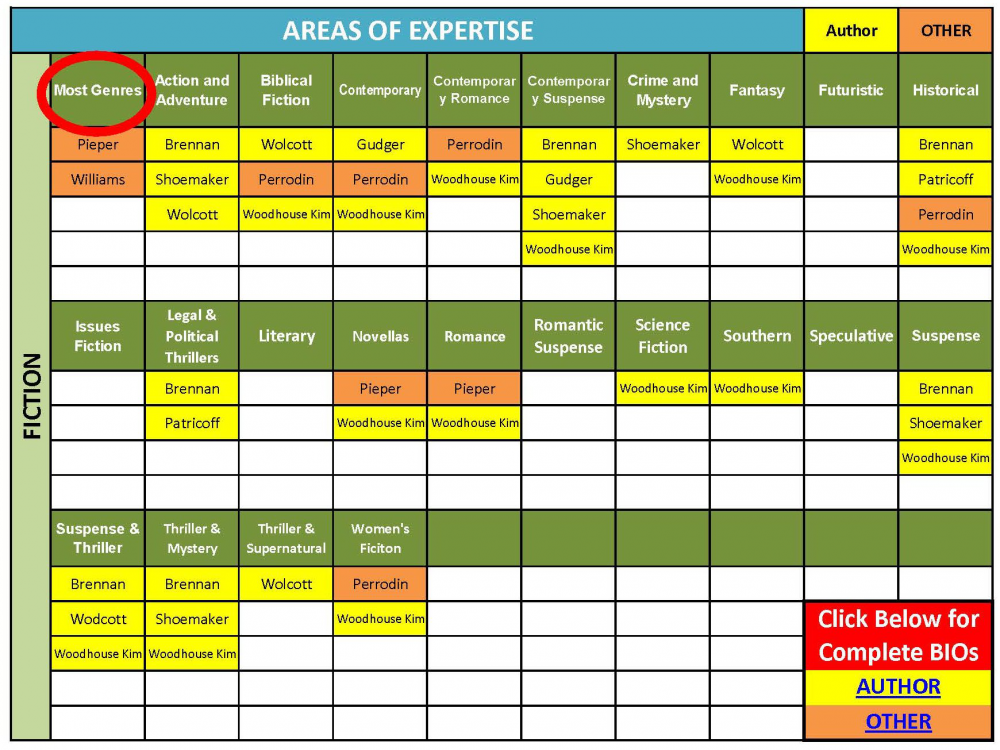 Finally, because in today's publishing world it takes more than great writing to get our work published and read, we've included a chart of other aspects of growing our writing ministry with faculty that area available to help in areas such as blogging, public speaking, indie publishing, social media and more. Click here to view it as a PDF with live links to bios.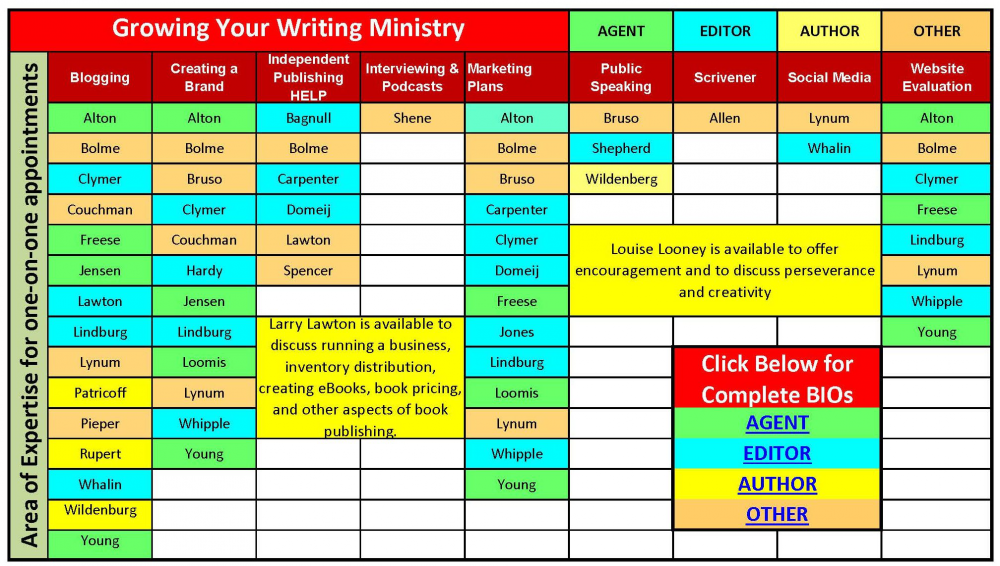 No conference gives you more opportunities ot meet one-on-one with the agents, editors, and authors of your choice. Register for all 3 days (Thursday, Friday, and Saturday) and you are entitled to 4 – yes FOUR – 15-minute appointments. (We do not schedule appointments on Wednesday afternoon, but encourage you to come early for a great line-up of early bird workshops.)
CCWC is always a life-changing and ministry-enabling conference where friendships are formed with others who share your passion for writing His answer. I know Father is going to again meet us on the mountain. I'm praying you will join us there!
New writers should absolutely go to writers conferences.
The best two are Mount Hermon
and the
Colorado Christian Writers Conference.

Lee Hough
 Former Agent
Alive Communications
Now home with the Lord
Have a blessed Christmas because He came and is coming again! Click here for our family Christmas letter.

Next year's conference:
May 16-19, 2018
YMCA Estes Park Center
NOTE: Information on this website 
is from 2017 conference.
 
CDs from our 2017 conference
now available.
Click here.

"If you liked Writers on the Rock Conference you owe it to your writing self to elevate your game and make the drive to Estes Park. This is one of the most respected Christian Writers Conferences in the nation and it's right in our backyard. Marlene Bagnull is a friend of writers and she has put together a top-notch program. "
David Rupert
CLINICS
Fiction Intensive          
Tracie & Jim Peterson
Award-winning & Best-selling Author 
www.traciepeterson.com 
Limit 10 participants
The author of over 100 books, Tracie gave her heart to Jesus at the young age of six. She always felt called to some form of ministry, and writing fulfills that mission field. Tracie received her first book contract in November 1992, and saw A Place To Belong published in February 1993 with Barbour Publishing's Heartsong Presents. She wrote exclusively with Heartsong for the next two years, receiving their readership's vote for Favorite Author of the Year for three years in a row. In December 1995, she signed a contract with Bethany House Publishers. Tracie now writes exclusively for Bethany House Publishers. She has co-written with a variety of authors including Judith Pella, Judith Miller, James Scott Bell, Kimberley Woodhouse, and her daughter Jennifer.
Jim has been researching the details of history for years.
Dissect the Best-selling Novel to Write a Best-selling Novel – Have you ever wondered what makes a novel a best-seller? Or maybe you've wondered what it was about one book that really drew you in, while another failed to get you to turn past the first chapter? This is a new style of workshop for the writer who is looking to figure out the ropes regarding writing quality fiction. Designed especially for the new writer who wants to learn the ropes and find their voice or the established writer who just wants a new approach to their own writing. Each student will be required to read a best-selling novel assigned by the teachers prior to the conference. They will receive instructions on dissecting prior to the conference and then need to be ready to discuss at the conference. 
Click here for the application due no later than April 15. To complete your application you will need to email a one-page (single spaced) synopsis and the first 10 pages (double spaced) of your work in progress. Please save both documents as ONE file in Word 2003-2007 or in RTF. Email to [email protected] with "CCWC Fiction Clinic" in the subject line.
On acceptance you will receive and need to read the synopsis and first 10 pages the other clinic participants have submitted in addition to the novel that will be assigned.
---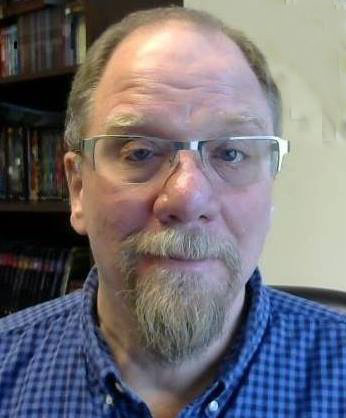 Nonfiction Book 
Craig Bubeck
Limit 8 participants
Craig is a professional editor and writer who has served for twenty years in the CBA retail industry as publishing director and in senior-level acquisitions editorial with publishers such as Wesleyan Publishing House, David C. Cook, Victor Books, and Scripture Press. In the span of his career he was directly responsible for the successful publication of more than 200 retail  books, more than a dozen curriculum lines, and the authoring or ghostwriting of several books and articles. Simultaneously with his publishing career, for twenty-five years Craig has taught college English writing, rhetoric, and literature at colleges and universities wherever he has lived.
In this hands-on clinic, you will learn the essentials of a well-structured book built upon the foundation of a solid concept. The focus will be upon topically structured book, not narrative memoirs. (Writers wanting to transform their personal narratives into a topical form are welcome and could find this clinic useful.) You will also work on your book's concept/focus, table of contents, and opening chapter to help ensure that your book can reach its intended audience with the message you wish to present.
Prerequisite: This clinic is open to all writers who are serious about writing a topical nonfiction book.
Click here for the application due April 15. To complete your application, you will need to email (1) your first chapter (double spaced), (2) a one-to-three-paragraph overview of your book, and (3) an annotated table of contents (i.e., chapter titles with a single paragraph description under each title that briefly tells what that chapter will cover). Please compile and save all documents as one file in Word format (or in RTF), and submit by email to Marlene ([email protected]). Put "CCWC Nonfiction Book Clinic" in the subject line.
On acceptance you will receive (via email) a copy of what the others in the clinic have submitted that you will need to read prior to the conference.
---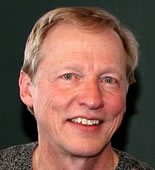 Speakers' Clinic
Roy Hanschke
www.ChristianSpeakerCoach.com
Limit 8 participants
Roy is a seasoned Christian radio personality, speaker, and trainer/coach who has trained and coached beginning and seasoned speakers for over 15 years. He has spoken to churches, civic groups, state and national conferences, professional groups, and serves on CCWC's faculty every year. Roy is also a 20-year (plus) veteran in Christian radio in Denver, Colorado. His morning show is heard at 910AM and worldwide on streaming audio at www.AM91.org. Roy has written how-to articles on the topic for a variety of magazines. His style of teaching is simple, practical, and effective.
Every writer needs to be a speaker, too. If you've been avoiding the challenge to begin the speaking part of your ministry or need to improve what you're already doing, this is the clinic for you. Roy will help you 1) discover your ministry focus and how to talk about it (power statements), 2) organize one of your talks to maximize time and effectiveness (message development), 3) present your talk with power and pizzazz (voice personality), and 4) market your message through radio (media mania). You'll have an opportunity to test what you learn and receive helpful evaluation from Roy and your peers.
Click here for the application.
On acceptance - By April 30, participants need to send Roy any promotional materials they've developed on their books and/or any articles they've written. You'll also need to bring 8 copies of each promotional piece to CCWC for other clinic participants to see. Finally, you'll need to bring an outline of a presentation you've given or are working on and be prepared to present a portion of that talk.
It's often said that writing and speaking go hand in hand. That's why I'm grateful that CCWC offered Roy's Speakers' Clinic. Roy is a dynamic example of "show don't tell" as he actually demonstrates different methods of effective communication. Each participant had the opportunity to try out Roy's suggestions in a safe and encouraging atmosphere. We learned from each other and went home with a notebook full of useful instructions on how to become a more skillful communicator. 
Sue Cameron – Augusta, GA
---