Faculty Notes
Pre-Conference Timeline
Due

Task

Done

April 10
Contract and Appointment Availability form returned to Marlene. You can send via the USPS; fax to 484-991-8581 (no later than 10 pm EST please); or scan, save as a pdf, and email.
April 10
If you prefer to stay in a cabin with your family, make your reservation with the YMCA. (Recommend you do this ASAP.)
April 15
Flight booked to Denver and itinerary sent to Marlene.
Please carefully read the info below on arrival/departure times.
April 15
Return Book Consignment, Order, Donation form to Marlene via USPS, fax, or email including titles you will recommend to your class.
April 30
Mail free-lit, give-away books, and product for sale on our conference book table to the YMCA Estes Park Center, Conference Center Office, ATTN: Writers Conference, 2515 Tunnel Road, Estes Park, CO 80511-2550. Click here for consignment form. We need to receive by Monday, May 13.
April 30
Handouts, preferably emailed to Marjorie.Vawter@gmail.com and mbagnull@aol.com. If you need to send a hard copy, mail to Margie at 1967 State Hwy OO, Marshfield, MO 65706 and to me.
April 30
Expect to receive mss for your paid critiques (if any).
May 10
Expect to receive an approximate count of the number in your workshop.
May 10
If you're flying and need a ride from the airport, you should hear from
your driver today.
May 15

You are welcome to attend an Earlybird Workshop at 1:00, 2:15, and 4:45 or Cindy Lambert's two-hour "Crafting a Winning Nonfiction Book Proposal" from 3:45 - 5:45. Rooms will be available at the YMCA at 3:00.
Faculty dinner in the Pine Room at 5:45.
Earlybird Workshops
You are welcome to attend any of these earlybird workshops. Of course at no charge! Click here for location.
Wednesday, 1:00 - 2:00 pm
4 E1 - A Winning Receipe - Writing for Anthologies - Ava Pennington
5 E2 - Applying Your Heart - Elsi Dodge
9 E3 - Beginning Screenwriting - Dianne E. Butts
6 E4 - Character Conversations - Tiffany Amber Stockton
7 E5 - Get Your Book Noticed on Goodreads, Pinterest, Twitter . . . - Eddie Jones
3 E6 - Leaching, Puking & Other Things Writers Need to Know - Debbie Hardy
Wednesday, 2:15 - 3:15 pm
9 E7 - New Trends & Technologies - Cindy & Dave Lambert, Jonathan Petersen
6 E8 - Developing the Nonfiction Book Pitch - Karen Whiting (75 minutes)
7 E9 - How to Shape You Story for the Screen - Dianne E. Butts
1 E10 - Networking in Digital Communities - Allison Althoff
3 E11 - Retailer's Request - Suzanne Kuhn
0 E12 - Writing Interviews Readers Want to Read - Donna Brennan

Wednesday, 3:45 - 5:45
17 E13 - Crafting a Winning Nonfiction Book Proposal - Cindy Lambert

Wednesday, 4:45 - 5:45 pm
6 E14 - Developing a Writer's Persona - Terry Burns
5 E15 - Building Your Message Into a Ministry - Linda Evans Shepherd
6 E16 - Medical Pitfalls When Killing Your Characters - Jordyn Redwood
5 E17 - Over Fifty - Am I Too Late? - Chris Richards
2 E18 - Putting the Social Back into Social Media - Suzanne Kuhn
7 E19 - Turning Personal Experiences into Parables - Cindy Sproles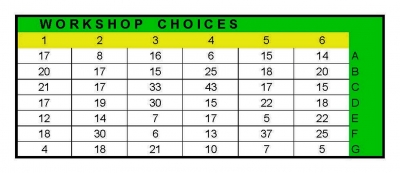 How to read: Column 2, Row 14 under yellow header with 19 participants is
2D Hope to the Hurting taught by Linda Evans Shepherd

Continuing Sessions

22 1 - Reaching Hearts of Your Readers - Ken Gire
40 2 - How To Get Published - Tim Shoemaker
17 3 - Suspense Noels & Screenplays - Bill Myers
13 4 - Fiction for Women - Gayle Roper
23 5 - Obscure No More - Thomas Umstaddt Jr.
9 6 - Inspiration & Perspiration
14 7 - Nonfiction Books - Kim Bangs
9 8 - Pixels to Profits - Brian Schwartz
NOTE: We have 180 conferees. As usual about 10% have not told us what they want to attend.
If you are bringing your handouts with you, I suggest you add 20 - 30% to the present number.
We will have a copier at the conference, but it is slow. Best to bring a thumb drive so we can
make copies on the laser printer.
Contracts will be sent via the USPS no later (I trust!) then next Monday, April 1. No fooling! :) Let's walk through the contract with addtional info.
General Sessions/Keynotes - I want to encourage you to attend these each morning and evening. Not only will you be challenged by the messages you will hear, the time of corporate prayer and worship is important for keeping the conference focused on Christ. These sessions also are the only time during the day when I can make needed announcements although I really try to make as few as possible. You may slip out of the evening sessions if you get too tired, but please come for at least part of the evening sessions.
Continuing Sessions - Meet five times throughout the conference: a 75-minute session Thursday morning, 60-minute session Friday morning and Thursday and Friday afternoon, and a closing 75-minute session Saturday afternoon. An approximate count of the number in your session will be provided about a week before the conference. (For those who have taught a continuing session in the past, you'll note that we have cut the former 90-minute sessions to 75 minutes since the CDs Joyco will be producing are 75 minutes. This will also give us 15 minutes longer for lunch.
Workshops - Each workshop is 60 minutes. Please help us stay on schedule by not running overtime. Remember too that there is another class and instructor waiting to get in your classroom. An approximate count of the number in your workshop(s) will be provided about a week before the conference.
Earlybird Workshops and First-timers Orientation - Our Wednesday afternoon workshops begin at 1:00, 2:15, 3:45, and 4:45. You are welcome to attend, of course, no charge. If you're new to CCWC, you may also want to attend Liz Furman's First Timers' Orientation at 3:45.
Handouts - Please limit your handouts to a maximum of 15 one-sided pages for a continuing session; 3 one-sided pages for a workshop. Please help Margie avoid the last minute scramble by sending to her (preferably via email - address in timeline above) no later than April 30. (NOTE: I'm exploring the feasibility of providing the handouts on the conference website so please send to me as well.) Be sure to note the workshop(s). If you prefer to bring your handouts with you, we will reimburse you at .04 a copy. (I suggest you add about 20% to the estimated count we will provide.) We will have a copier at the conference, but it is not high-speed so please do not plan to have everything copied when you arrive. It is wise to bring anything you think you may need copied on a flash drive so we do not need to print them on the slower inkjet printer.
Paid Critiques - Please check the Paid Critiques page to make sure I didn't miss listing you for a genre you'd like to critique. You'll notice there are lots of holes. If you see something you'd like to fill, let me know. Marge Vawter will mail manuscripts to hopefully reach you by April 30. Payment is $30 each. Please don't spend more than 30-45 minutes pre-conference on each manuscript since you will also meet with the conferee 30 minutes at CCWC. Conferees appreciate notations on their manuscript. On your contract note the maximum number of paid critiques you're willing to do but keep in mind that we cannot guarantee that you'll get that many or any at all. No doubt because of the economy I find we're getting fewer requests for paid critiques.
Appointments - When I mail your contract, I'll enclose our Appointment Availability Form for you to X out the times you are teaching, any workshops you want to attend, and down time. This will enable Bonnie Calhoun to pre-schedule your appointments so our conferees do not need to stand in long lines at the conference. You will receive a schedule of your appointments from the Appointment Desk when you arrive. Appointments change throughout the conference, so please periodically check in at the Appointments Desk in the east foyer for updates to your schedule. If you have times that are not yet filled, you do not need to sit in the auditorium waiting to see if someone comes. Just notify the Appointment Desk where you will be. If you choose to attend a workshop during times that you've noted you're available for appointments but presently do not have anyone, we recommend you sit in the back of the classroom so we can come and get you if someone signs up to meet with you during the workshop. (Forgive the long wordy sentence!) For more info on our appointment system, click here.
Please note - The appointments are very important to the conferees. They leave a workshop or continuing session to meet with you, so please do not disappoint them by missing a scheduled appointment. If you need to change an appointment time, see someone at the Appointment Desk and give them enough time to notify the conferee of the change.
And please remember to "sandwich" constructive criticism between something positive or encouraging. Be careful though not to give false encouragement. Father, please give us all much wisdom to know how You would have us respond to the writers we meet with. And please help them to hear what we're saying; not what they want to hear. Give them teachable spirits and give us sensitive hearts.
An important note to editors and agents - We are all pressed for time, but if you take a manuscript with you or request that it be sent to you, please try your best to get a response to the conferee in at least three months. If your policy is that no answer within three months means you're not interested, please make that clear.
Panels
Thursday 1:15 pm (auditorium) - The Bold New World of Publishing Panel (moderated by Dave Lambert) - Dave will be contacting some of you to serve on this panel. Please plan to attend even if you're not on the panel. I think it will be an interesting session.
Thursday 7:30 pm (auditorium) - Write His Answer - And Give God the Glory Author's Panel. To give our conferees an opportunity to share, please plan to join this panel only if you've published a book last year or this year. If you have brought books (or asked me to order books) that were published before 2012, we encourage you to sit at a table behind your book(s) for the autograph party that will follow the panel.
Friday and Saturday, 9:45 am - Editors' Panels - Each year we have some "missing-in-action" editors and agents for the panels. Please don't disappoint our conferees! Book editors and agents will meet in the Ruesch auditorium. Location will be announced for the magazine editors.
Friday 1:15 - Ask the Agents - An opportunity for our conferees to get their questions answered by our "agents-in-residence." OR
Friday, 1:15 - Indie Published Panel - If you provide services for indie authors or have independently published a book, please join this panel.
Writer's Helps - If you have a resource for writers or offer a service to writers, please note this on your contract. I'll do my best to give you a minute or two to share in a general session. You'll jog my memory by sitting down front.
Travel - First a huge thank you to those who are covering their own travel. With the size of our faculty, that really is a great help. If CCWC is paying for all or a portion of your flight, please email flight info and the price to me before you finalize the booking and let me know if you need to be reimbursed before the conference. For pricey flights I try and use my frequent flyer miles. I usually check www.orbitz.com first to see which airlines have the best non-stop flights (whenever possible) and prices. From there I go directly to the airline's site since often I find they have an even better price. A tip I recently learned from an article a friend shared with me is that the lowest fares can usually be booked Tuesday afternoon through Wednesday or right after midnight.
Flight Arrivals - Please plan to arrive at DIA by 3:30 pm on Wednesday so you don't miss our faculty dinner at 5:45 pm.
Rides from Airport - Cindy Watkins who drove to my home in PA from her home in NC more than a week before the conference is coordinating transportation. She will be in touch with the name and cell number of your driver if you've told us you need a ride, hopefully by May 10. Cindy's cell is 704-763-1212.
Renting a Car at Your Expense - Let me know, please, if another faculty member can ride with you if your flight times coincide.
Flight Departures - Now that Saturday flights cost about the same as Sunday, you are welcome to depart on Saturday if you need to get home that evening. We prefer, however, that you book an evening flight. The conference ends around 5:30; the last continuing session ends at 3:45. It's wise to allow two hours travel time from the YMCA to the airport plus 90 minutes for check-in. We are typically able to find drivers late Saturday afternoon and evening. If you need to catch an earlier flight, please note the Estes Park Shuttle pick up times at the YMCA are 5:00, 7:00 or 10:00 am and 1:00 or 4:00 pm.
Sunday Departures - please do not book your return flight earlier than 9:00 am unless you have a rental car or have made arrangements for someone to get up in the wee hours to take you to the airport. If you want to go on the tour of Rocky Mountain National Park on Sunday, we will arrange to have you back at the Y for the 1:00 pm shuttle or whenever your driver is leaving for the airport. A three hour departure from the YMCA on Sunday morning is fine.
Driving - Click on Travel for directions.
Lodging - CCWC houses faculty two to a room in Longs Peak. Please note your roommate preference (it helps if you give me a choice) on your contract or I will choose for you. If you prefer a single, you may upgrade at your expense for $25 a night in Mt. Ypsilon or $45 a night in Longs Peak. Rooms in Mt. Ypsilon and Longs Peak have a private bath. Mt. Ypsilon has a full size bed and bunk beds; Longs Peak two queen beds and a futon.
Bringing family – Because meals are included with lodging, the Y charges for each person in the room. The cost to bring your spouse is $57 a night in Mt. Ypsilon or $77 a night in Longs Peak. Children, ages 6-12, are $19 a night. Your family is welcome to attend all or part of the conference at no charge. To avoid confusion and possible double-booking, let me know if you are bringing family so I can book the room. You can pay the YMCA for your family's portion of the bill when you arrive.
Cabins - Should you choose to rent a cabin, contact the YMCA ASAP. CCWC will cover $77 a night of the cost of a cabin. Meals are NOT included with cabin rental and are at your own expense.
You're welcome to arrive before Wednesday and stay beyond the 10:00 am Sunday check-out at your own expense. Fly-ins typically stay over Saturday night at CCWC's expense. Drive-in's within several hours of home typically leave at the end of the conference Saturday at 5:00 although you're welcome to stay Saturday night at your expense.

Meals - The dining hall is below the Ruesch Auditorium. The meal ticket you'll receive from the YMCA (if you're staying in a lodge) begins with dinner the day of your arrival and goes through noon the day of your departure. If you arrive in time for lunch, please give your name and the conference name to the person at the register in the cafeteria. Depending who is on duty, that may get you in. :) If not, you'll need to pay for your meal, but put the cost on your expense voucher and I'll reimburse you. Lunch is served from 11:30 to 1:00 pm; dinner from 5:00 to 7:00 pm; and breakfast from 7:00 to 9:00 am. Because other groups are using the Y, we are unable to reserve tables and put names on tables. The Aspen Dining Hall, however, has been renovated and enlarged and more serving lines added.

Special Diets – The Y serves a wide variety of food cafeteria style. If you have special dietary needs, please let me know. The Y is very accommodating.

AV Needs – PowerPoint and other audio visuals are provided free of charge in the four Ruesch classrooms, but we have as many as ten workshops/clinics happening at the same time. Renting a PowerPoint projector for the other classrooms is costly, so please request (on your contract) only if necessary. If you're able to bring your own projector, that would be great.

Other Needs – Please don't hesitate to let us know if stairs or walking is a challenge. There are elevators in Longs Peak, and the walk between buildings is not long or as steep as the hills at Mt. Hermon. But if you need a ride or anything else, just ask.

Permission to Record - The conferees really appreciate the opportunity to purchase CDs professionally produced by Joyco of the general and continuing sessions as well as the workshops. A copyright notice in your name will be printed on the label. CDs will be reproduced on site and sold to conferees. You will receive one CD of each session you teach, to be picked up at the conference. CCWC and Joyco reserve the right to make and sell CDs after the conference. All other rights belong to you. (We also record the panels but with the number of panel members will not include a copyright notice and cannot give each panel member a free CD.)

Conference Book Table - You are welcome to consign books, tapes, videos, and other special products for sale at our book table. We charge a 20% consignment fee. Click here for consignment form that needs to be completed or attach it to a list of your titles that includes quantity and price. All books need to be priced (preferably on the back cover). If you are shipping, enclose the consignment form in the box.

How many books should you bring or ship? While we sell a huge number of books, there is no way of knowing how many copies of specific titles will sell. Typically the biggest sellers are writing how-to books and books by our general and continuing session speakers. Hopefully with the author's panel and autograph party Thursday evening you'll have good sales.

Ship product to arrive by May 13 to:
YMCA Estes Park Center
Conference Center Office
ATTN: Writers Conference Books
2515 Tunnel Road
Estes Park, CO 80511-2550

Please help us make this year's book table the best yet by including a list of titles you will recommend to your class on the Book Order/Consignment/Donation form. Book sales not only help us meet our budget, they provide continued learning after the conference. We encourage you to browse the book table and borrow titles for "show and tell" in your class.

Give-aways - We're delighted to have books you've authored or your house has published as give-aways. If shipping, please clearly note titles that are for give-away.

Free Lit - Our conferees appreciate free copies of your magazine or book catalog as well as your guidelines for writers and list of upcoming themes, if any. We realize that most of you have posted your guidelines on your website. (Please make certain the URL is on our website with your bio.) If, however, you have pre-printed copies of guidelines, we're glad to have them. We are not able to make copies. Despite the economy, we are again trusting the Lord for 225 conferees. Not everyone takes a copy of everything, so use your best judgment when deciding how many to send. We know it costs money to print and send literature to us, so we encourage conferees to take left-over free lit home to their writers' group or church. Current date magazines that are leftover are given to the YMCA. When shipping, please use above address but with the attention line "Writers Conference Freebies."

Other Free Lit - If you have flyers of resources or services for writers or info about a ministry you are a part of that you'd like to add to the free lit table, we'd be glad to have it.

When You Arrive at the YMCA - Click on Travel for a map of the YMCA campus. If you arrive after 3:00 pm on Wednesday, go to the Administration Building (on the left side of the main road) to pick up your room key and meal ticket. There is a flagpole in front of the building and a porch around the front. Go up the stairs and to the desk in the main lobby. (There is an entrance on the right side of the building with no steps.)

Managing your luggage - If you are not driving, ask your driver or the shuttle to drop you and your luggage at the lodge where you will be staying. You can relax in the lobby until it is time to check-in to your room at 3:00 pm. If it's past 3:00 pm, call one of the numbers below and we'll have someone pick you up and drive you to the Administration Building to get your key.

Checking in with us - Whenever it is convenient, please come to the east foyer of the Ruesch Auditorium (the largest building on campus just down the road, on the left, from the Administration Building) to pick up your conference packet, name tag, and appointment schedule from the Appointment Desk. We will hopefully have a sign on the door by the time you arrive. (It's the door to the left of the Aspen Dining Room that is below the Ruesch Auditorium.) There is an elevator to take you to the second floor. We'll be assembling the packets Tuesday evening and Wednesday morning so they probably will not be available until after lunch on Wednesday.

If you are teaching or attending a Wednesday earlybird workshop you may want to go directly to the classroom. For Wednesday's schedule a/Resources/20476.pdfnd classroom locations click here. Remember, you and your family members are welcome to attend all of the workshops no charge.

Faculty Dinner, Wednesday, 5:45 pm - We'll gather in the Pine Room (just down the steps and across the walkway from the east lobby of the Ruesch - or you can take the elevator). Yes, I know some of you will be teaching until 5:45, but if the rest of us can already be there when you arrive, it will save time. We need to start eating promptly at 6:00 since our evening session begins at 7:30. Again, please plan to join us for at least a portion of the evening sessions.

Adjusting to the Altitude - The YMCA of the Rockies is located at an elevation of 8,010 feet above sea level. Altitude sickness can affect everyone, no matter what age or level of fitness. Nearly everyone who visits from lower elevations will notice shortness of breath. Some may also experience fatigue, dizziness, headaches, and nausea. I have found that drinking lots of water makes all the difference. The YMCA also recommends that we eat lightly, avoid caffeine, get plenty of rest (right!), and keep exertion to a minimum. Again this year Liz Furman is bringing her Kangen water machine and we will have stainless steel BPA free sports bottles available for a donation to our scholarship fund that is sorely under-funded!

Connecting with the outside world - Cell phones cannot always get a signal at the conference because of the surrounding mountains. Therefore, give your family and office the Y's main number: 970-586-3341 or 303-448-1616 and have them request the operator who will connect them with your room where they can leave a message. You can also give them x 1164 which rings in the east lobby of the Ruesch Auditorium at the book table and we'll take a message.

Long distance calls may be made from the phone in your room but please pay for your calls when you check out. The Y operator recommends AT & T phone cards as the most reasonable alternative for long distance calls.

High-speed Internet access is available in Mt. Ypsilon and Long's Peak, as well as in the Ruesch Auditorium that serves as the conference hub. Should you have a problem connecting, I suggest you contact your carrier for local access numbers in the 970 area code.

Recreational Opportunities - You may want to bring a swimming suit. And don't forget the hayride and chuck wagon dinner on Saturday evening. I guarantee you've never had a better hot dog anywhere! We've got two wagons (drawn by magnificent horses) with real hay. (I know "real hay" isn't a plus for some of you, so you can follow in a car if you are allergic to hay.) Cost is $18 if you're staying Saturday night in one of the YMCA lodges. Otherwise the cost is $23. Please sign up and pay at the registration desk in the west lobby of the Ruesch. (I'd love to be able to cover the cost for all the faculty and staff but it's just not in the budget!)

What to Wear - Bring comfortable shoes and clothes you can wear in layers. Although we're anticipating springtime weather, more than likely it will drop to freezing in the evenings and, yes, it may even snow! The atmosphere will be informal and relaxed. We're here to learn from one another and to seek the Lord in a retreat setting. Jeans are fine - really! And men - please NO suits or ties!

Thank you for taking the time to read all this. (Now you know why it took so long for me to get this written!) If you still have questions:
Email me at mbagnull@aol.com

Call me at 484-991-8581 through Monday evening, May 13
Remember if calling or faxing that I live on the east coast
and we're two hours later than Colorado!

My cell (Tuesday morning, May 14, through May 21) - 267-328-7589
(Other times my cell is not turned on.)

Margie Vawter - 303-981-1487

Cindy Watkins - 704-763-1212
NOTE: Margie and Cindy receive and send texts.
I'm still digging in my heels.

YMCA East Lobby (where we'll be most of the time) - 970-586-3341 x 1164
After 10:00 pm x 3120

Father, thank You for all You're doing and will do.