I'm praising God for the most powerful conference ever. And I'm so grateful we were virtual since I now have covid. I'm certain I was already contagious before I would have left for Colorado.

We're working to get over 100 hours of videos uploaded to my private YouTube account. For only $99 they can be accessed through Labor Day 2022 for those who did not register for the conference. For those who did register, there is no additional charge.
Be watching for info coming soon about how to purchase access.

This year the
Colorado Christian Writers Conference
& the Greater Philly Conference
combined into ONE virtual
Write His Answer Conference, May 11-14, 2022!

Going Virtual – MORE for LESS!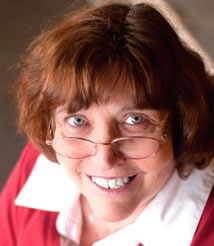 A Word from the Director
Marlene Bagnull
I was so looking forward to being back on the mountain for our 25th anniversary. However, there are just too many unknowns with the ongoing pandemic and ever-changing mask and vaccine rules. We thought the danger was past last summer, but then there was Delta followed by Omicron. The health and financial risk is just too great. So, after MUCH prayer and discussion with my team of twelve who all felt we needed to go virtual, I had to agree. (And this was before Ukraine was invaded and all the additional unknowns that creates for our entire world. Father, please bring peace!)
If you were with us virtually last August, you know what an amazing job my team did. And this year is going to be even better thanks to my son who gave me ten laptops he refurbished. As a result, we will not need to pre-record workshops. Everything will be LIVE!
And breaking news - This year I'm combining the Colorado and Greater Philly conference into ONE virtual conference.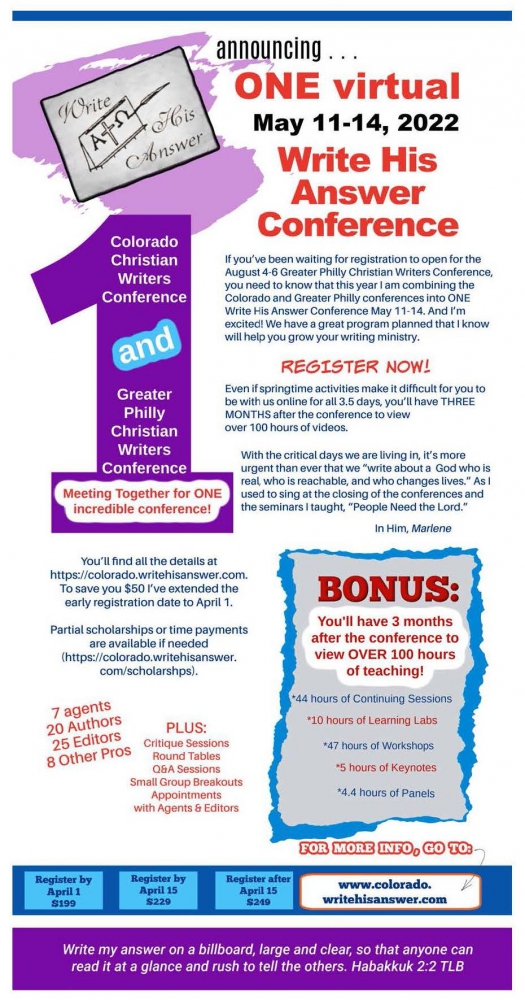 Click here for more info including available discounts!

Do the math! I know – like me numbers may not be your thing, but that's over 100 hours you will be able to view for THREE MONTHS after the conference. Wow! That's less than $2 an hour if you watch everything. Plus during the conference you'll have opportunities to:

interact with other conferees in small group breakouts

learn more about the editorial needs and the genres our agents are interested in representing in addition to getting your questions answered during mealtimes

participate in a critique group Thursday and Friday afternoon or a Q&A with our authors

and meet with agents and editors in three or four appointments

Yes, it won't be the same as being in person. Honestly, in some ways I believe it will be even better! Of course, I will miss the hugs and the mountains and the elk (and the moose I hoped to finally see this year), but the connection I will still feel with everyone – and especially with the Lord – will not be diminished by going virtual. I know the same will be true for you.

So take some time to check out this year's faculty and program for what I know will be an amazing and life-changing 25th anniversary conference that will encourage and equip you to write about a God who is real, who is reachable, and who changes lives.

Never doubt God's mighty power to work in you . . . He will achieve infinitely more than your greatest request, your most unbelievable dream, and exceed your wildest imagination! He will outdo them all, for his miraculous power constantly energizes you.
Ephesians 3:20 TPT