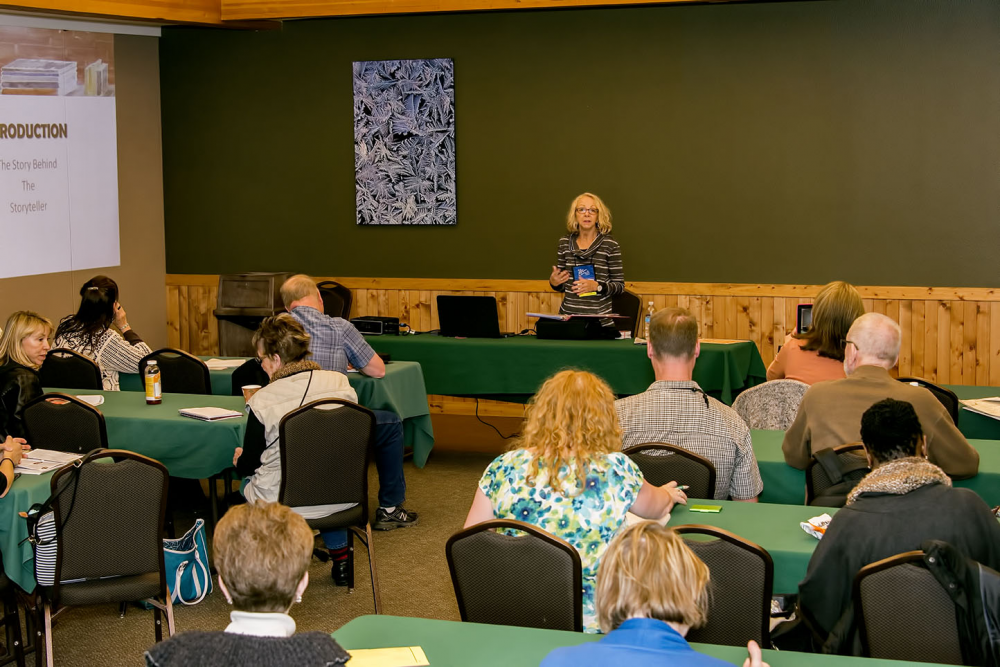 Thursday, 2:15 – 3:15
1A – Yes, You Are a Writer
David Rupert
Do you cringe when friends and family introduce you as a "writer"? Are you frustrated by your lack of a contract, notoriety, or platform? In this workshop you'll learn your identity, name your writing gift, and find creative ways to use that gift. Writers write, regardless of financial compensation. Blogs, comment sections, letters, newsletters, and even family obituaries are places for you to use your gift. You'll leave this workshop with new inspiration and the confidence to say, "Yes, I am a writer."
1B – Pump Up Your Writing: Using Strong Verbs in Fiction and Nonfiction
Debbie Maxwell Allen
Writers hear the advice to avoid adverbs and to shun strings of adjectives and clichés. One way to do all three is to strengthen your verbs. Send your verbs to the gym! There are plain-vanilla verbs, and there are Rocky-Road-with-chocolate-sauce-and-whipped-cream-verbs. The verbs you choose will make a difference in your manuscript. Bring some excerpts from your work in progress, and enjoy hands-on exercises to pump up your prose.
1C – Reaching Boys through Fiction
Tim Shoemaker
This is about writing for a tough market—but one of the most rewarding. Learn why it's smart to target boys with your writing and the secrets to doing it well. We'll show you the ten "gotta haves" when writing for boys and the ten "kisses of death."
1D – Write Bible Studies that Can Change the World
Gloria Penwell
Learn the essentials of presentation, explication, elaboration, and application. You'll also discover the denominations that need small group Bible studies.
1E – Proposals Publishers Love
Karen Neumair
Discover key components to putting together the perfect presentation for your project and get a sneak peek at proposals that sell.
1F – What's a Platform, and Why Do I Need One?
Bill Jensen
Discover what it takes to get noticed by a publisher and why a platform is imperative. You may be surprised at the importance of editorial content verses the marketability of the author and book. Today a well written book is proving not to be enough. This workshop will equip you with the ideas you need to build a platform that will get the attention of publishers. This class is primarily for nonfiction writers.
1G – Magnify Your Message
Patti Shene
How would you like to be a guest on Internet Radio? It's a fun and effective way to connect with and convey your message to your audience. Learn how to be an engaging interviewee and how to set up your own Blog Talk Radio show.
---
Thursday, 3:30 – 4:30
2A – The Writer's Heart
Susan Baganz
How can we nurture our relationship with God as we write? The importance of accountability, not only for the quality of our writing, but more importantly for our faith walk.
2B – Targeting Your Reader
Janis Whipple
Outside the Bible, no one book is written to and for everyone. Learn how to identify your audience for the message of your nonfiction book, not only by who they are but also what they need. This workshop will help you hone in on the needs, both obvious and hidden, of potential readers so that your message is targeted to the right people.
2C – Credible Characters
Darcie Gudger
Regardless of genre, characters must be credible to readers. Learn how to find the motivations behind your character's actions as well as how to develop a character arc based off Campbell's Hero's Journey.
2D – Narrative and Nonfiction: Why the Two Go Together
John & Meredith Sloan
From story to structure, from point of view to scene, from voice to style, it may sound like writing fiction, but it's the world of narrative nonfiction.
2E – Alternatives to Traditional Publishing
Larry Carpenter
A helpful look at the options available for those who want to publish their own book.
2F – Create a Best-Seller Brand
Dick Bruso
Develop a unique brand that will powerfully capture the marketplace by applying the "umbrella branding" approach to every aspect of your writing career.
2G – The Team Approach
Lori Wildenberg
Increase the value and reach of your blog and ministry by using a team approach to expand your platform. Discover how to find and vet potential team members, maintain ministry unity, and lead leaders.
---
Friday, 2:15 – 3:15
3A – The Healthy Writer
John Perrodin
A registered nurse and author, John will share tips about how we can stay in shape physically for the rigorous work of being an author. Setting up an ergonomic workstation, stretching, maintaining a healthy weight, walking in the sunlight, staying properly hydrated, and bathing your work in prayer are all topics covered in this practical session for those who care about their health.
3B – Writing without Crutches
Tamara Clymer
We all have those little things—those tricks and tools that we use to try and advance our writing. Unfortunately, many times those things become habits that do more harm than good. In this workshop, Tamara will shed light on writing crutches that instead of propping up our words, slow them down and trip up readers. She'll also offer practical tips for avoiding those pitfalls.
3C – Using Your Past in Your Fiction
Susan Baganz
Looks at how we can and do use our past experiences, pain, and unresolved emotional issues in our writing to provide healing and hope as well as a cathartic outlet for the author.
3D – Organizing and Outlining a Nonfiction Book
Janis Whipple
Many writers feel the first step in writing a nonfiction book is just to write it all down. While this may be cathartic and help some writers jump-start that blank page, creating an outline to follow will give you a roadmap and help alleviate any questions about whether you are headed in the right direction as you write. This workshop will discuss the purpose and ways to organize and outline a nonfiction book, the different types of organization you might consider, and how you can use them to remain focused on your message and your audience as you work.
3E – The Role of Agents in Publishing
Bill Jensen
Bill has reviewed thousands of book proposals and has participated in publishing committees for 25 years. In the incredibly competitive world of book publishing, it takes a great agent who knows how to present book proposals, negotiate contracts, and understands the complex and changing world of publishing. This workshop will explain the role of agents as the go-between for authors and publishers.
3F – Start a Group Blog
Cyle Young
Tired of plugging away at the keyboard, only to find out your blog post was read by a handful of people? Want to create a larger platform through the power of a win-win strategy? Start a group blog. Learn how to harness the power of community while working together with 5-40 other authors to create a shared platform. Discover how to recruit authors, create a website, market through social media, and drive traffic to your own personal website.
3G – Fast-Track Your Speaking Outreach
Dick Bruso
Accelerate your writing career by tapping into the ideal speaking organizations, resources, and tools. Come learn the inside secrets every Christian writer needs to know about the world of public speaking.
---
Friday, 3:30 – 4:30
4A – Pursue His Purpose
Judy Dunagan
Discover how your passion for writing can become an act of worship. We will dive into Hebrews 12 and focus on the importance of pursuing HIS purpose for your writing. We will also look at what it means to surrender the dream to get published, while still pursuing that dream.
4B – Writing Fundamentals
Kimberley Woodhouse
Whether you are writing fiction or nonfiction, a basic understanding of writing elements is essential to making your manuscript shine. In this class, we will cover all the basics to writing "tight" with practical application to fix common mistakes. High class interaction and worksheets.
4C – Dive Into Deep POV
Tim Shoemaker
Point of view is a tool to make your writing more realistic and powerful. A balanced view of deep POV and how to strengthen your writing in the process.
4D – Reading, Writing, and Editing the Memoir
John & Meredith Sloan
A time to read some of the best memoirs and learn to write and edit your own.
4E – The Right Publishing Path for You?
Ruth Samsel
Self-publishing and traditional publishing paths will be examined in order to help attendees understand the essentials of the publishing process so they can choose which option to pursue.
4F – Go Viral: Social Network Marketing
W. Terry Whalin
You can waste huge amounts of time and energy on social media. How can you do it effectively and without spending a lot of time? Terry Whalin has over 180,000 Twitter followers, over 4,800 Facebook friends and over 5,000 LinkedIn connections. He spends less than 30 minutes a day on his social media yet has an effective growing presence in the social media arena. In this workshop, Terry reveals his inside secrets and tips for Twitter, Facebook, and LinkedIn so you too can grow your platform and presence without wasting hours of time.
4G – I'm a Passionate Poet. Now What?
Susan Rehberg
Explore the high calling of poets. Why did God choose you? What can you do to enhance your writing? How will your poetry have an impact on others?
---
Saturday, 10:45 – 11:45
5A – Doing Battle
Charles Patricoff
Come, learn and receive basic training to be an effective and efficient soldier enlisted in the King's army, using the spiritual authority He has granted to take the fight to the enemy.
5B – Journaling Your Book
J. Christine (Chris) Richards
Ever get stuck with a plot line or a character or a theme or a location? Struggling to explain a concept? Bring a problem you are having with your writing and come ready to have fun. One warning: Since this method includes chalk and paint, you'll need to wear the trash bag we'll provide!
5C – It's Show Time!
Tim Shoemaker
The more you learn to show your story instead of just telling it, the stronger your manuscript will be. Exactly how do you do that? I won't just tell you; I'll show you!
5D – Nonfiction Book Creation from the Ground Up
W. Terry Whalin
How do you determine the big picture for a book project? This workshop details the essence of storyboarding techniques, then the pragmatic step-by-step instruction to write a complete book manuscript. Terry has accomplished these steps many times and can guide you in the process.
5E – So . . . Do You Really Need an Agent?
Ruth Samsel
The role and responsibilities of an agent will be examined to help attendees understand if what they are selling actually requires one, and then Ruth will offer suggestions on how to find the right one.
5F – Creative Marketing Plans
Tamara Clymer
When publishers look at your proposal, they want to know what you plan to do to market your book. They aren't so much interested in your 500 Facebook friends or the 800 members of your local church. They need to know what you will do to keep your book moving after you work through those lists. Tamara will offer some specific ideas to move you outside of your marketing box and get your book noticed.
5G – I.R.S. Don't Fear Them
Larry Lawton
A fun how-to workshop to develop your independent record-keeping systems. For writers, self-publishers, and small presses. What you need to know about accounting & taxes
---
Saturday, 2:45 – 3:45
6A – Your Senior Years: The Write Time
Catherine Lawton
Now that you're near or at "retirement" age, how do you cut through the overwhelm of memories, clutter, technology, isolation, etc., to effectively distill and communicate a legacy of your life experiences and gained wisdom?
6B – Weaving in a Biblical Worldview without Preaching (for fiction writers)
Marjorie Vawter
How to include a spiritual thread without beating the reader over the head. Includes a discussion of how to write from a biblical worldview to a cross-over audience.
6C – The Plot Skeleton
Terry Brennan
There are basically two different kinds of fiction authors—architects, who are organized, and gardeners, who plant a seed and watch it grow. No matter what kind of fiction author you are, there is basically one universal story structure . . . structure that goes back to mythology. All stories contain the same elements, and this workshop will include a step-by-step analysis of those elements. With their permission, this workshop is based on the work of Christy Award-winner Dr. Angela Hunt and author Nancy Rue.
6D – Thesis or Focus Statements
Dianne E. Butts
Is your writing scattered? Disjointed? Have you heard the instruction to write what you want to say in one sentence? Explore how to write a Focus Sentence or Thesis Statement to nail down your article or story's message then watch your writing fall into place. Especially good for nonfiction magazine articles, books, and chapters.
6E – The Elusive Contract
John Perrodin
John, who served as the Contract Manager for Alive Communications for three years, will give a hands-on tour of the standard book publishing contract. He'll include what to look for and look out for, leaving plenty of time for questions. He'll also show you why saying "no" to a contract may sometimes be the best thing for your career.
6F – Publicity and Paid Advertising
Larry Carpenter
There's an old adage in publishing. "No one ever bought a book they had never heard of." Two of the best ways to get the word out are through publicity and paid advertising. But they can be two of the most expensive arrows in your marketing quiver. Find out how to get the most out of your publicity and advertising without breaking the bank.
6G – Writing to Generate Ministry Support
Becky Spencer
Feel called to help your church or a ministry raise funds or find volunteers, but you're mortified about asking people to get involved? Learn how to call passionate helpers to legitimate Kingdom service.