No conference gives you more opportunities
to meet one-on-one with the agents, editors, and authors
of your choice!
Register for all 3 days – Thursday, Friday, and Saturday
No appointments are scheduled on Wednesday

5 – yes FIVE – appointments!
Be among the first 75 to register
for all 3 days
and you'll receive a BONUS 6th appointment.
Register for 2 days – 3 appointments
Register for 1 day – 2 appointments
~ *~ * ~ *~
I've never forgotten my first writers' conference.
It was a huge sacrifice financially.
I was beyond nervous!
Even though I'd not forgotten the shorthand
I learned in high school,
I couldn't begin to write down everything
the editors said they were
- and were not – wanting to see.
Trying to choose was even more stressful.
And then there was no guarantee
that those I chose would want to meet with me.
~ *~ * ~ *~
At the Colorado and Greater Philly Christian Writers Conference you get to choose who you want to meet.
There's no last-minute deciding once you arrive or long lines. Instead, using the resources we provide online, you submit your appointment requests pre-conference. The earlier you register, the better opportunity you'll have of getting your top choices.
Our extraordinary Appointments Coordinator, Barb Haley, is creating charts (see sample below from last year) that detail the editorial needs/interests of our 26 editors and 6 agents. There will be a chart for fiction, nonfiction, and children and YA. All will be downloadable as PDFs with live links to the bios.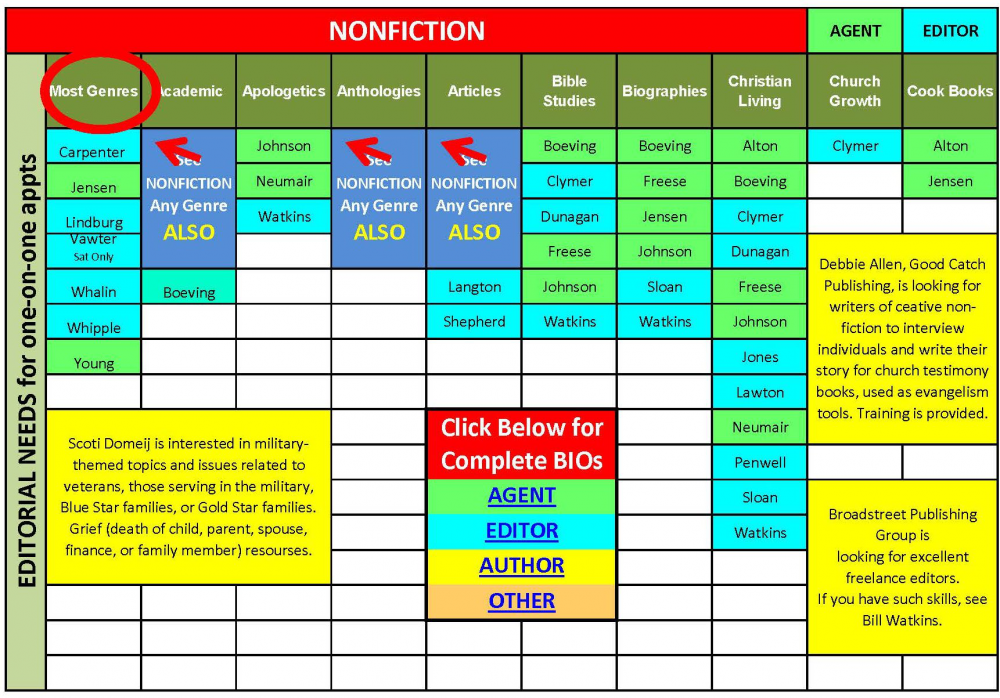 Because our authors and other professionals are often the best people to talk to about a work in progress, she will also create charts that show their areas of expertise in fiction, nonfiction, and children/YA.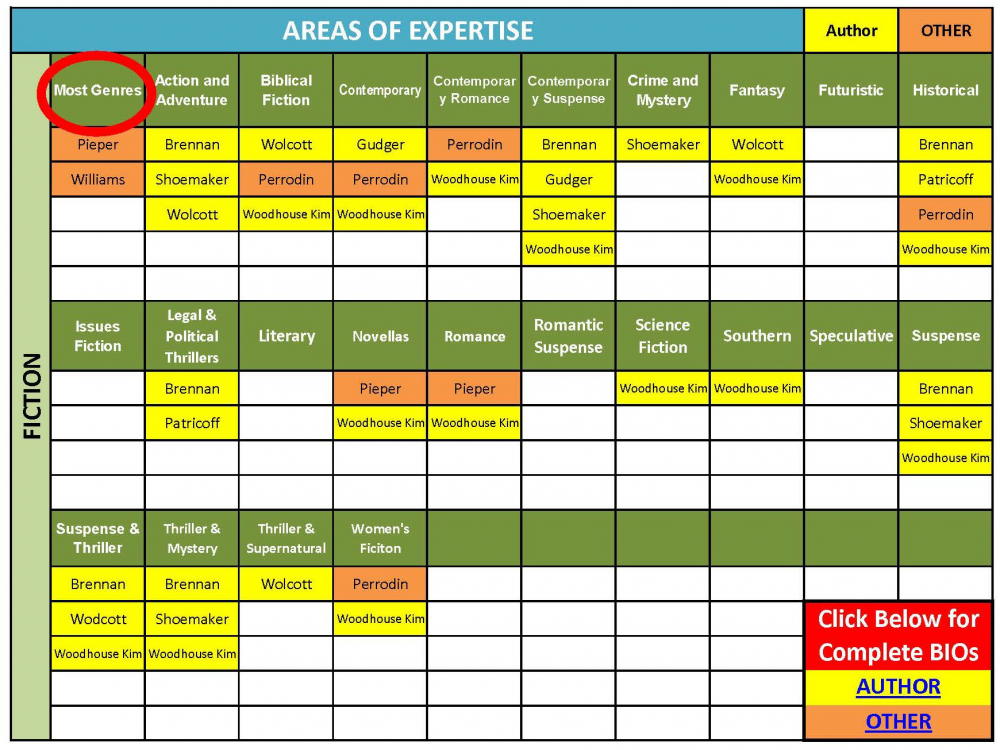 Finally, because in today's publishing world it takes more than great writing to get our work published and read, Barb is preparing a chart of other aspects of growing our writing ministry with faculty that area available to help in areas such as blogging, public speaking, indie publishing, social media and more. Click here to view it as a PDF with live links to bios.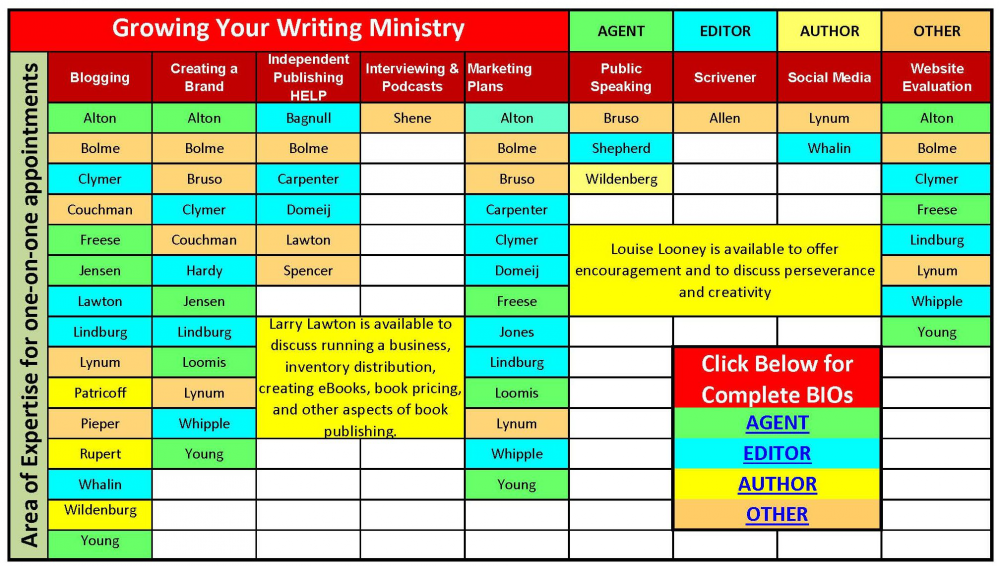 Still need help choosing? Our Appointments Coordinator, Barb Haley, is available to help you pre-conference. At the conference, our Appointment Desk Captain, Marti Pieper, will be glad to provide needed counsel and prayer.
And I am absolutely certain that Jesus is Lord of our appointment system. You can trust Him and His plans for your writing ministry.
~ *~ * ~ *~
For more helpful info, click on the links below:
How our appointment system works
How to prepare for your appointments
Making the best choices
Still nervous?
Plan to attend
"Making the Most of Your First CCWC"
Eric Sprinkle's free Wednesday early bird at 2:15
Even if this is not your first CCWC, you're welcome to attend. If you feel a little overwhelmed, please know that you're going to feel much more comfortable and knowledgeable over the next few days. But why wait to be a Writer's Conference expert until the day before you go home?
Why not be confident and fully prepared for this amazing event from Day 1?
How about sitting down with Eric Sprinkle, a 4-year "veteran," who can give you a detailed overview and share all the tips and tricks to help you navigate the three big areas you'll encounter while here – Networking, Craft-Sharpening, and Potentially Selling your Work.