There is the possibility of small changes in the mealtime round tables, critique groups, and Q & A's. Everything else is firm. You may want to print the schedule so you can mark it up with your choices. During the conference, however, you will need to access the easy to navigate (I promise) conference dashboard. Here's a screenshot.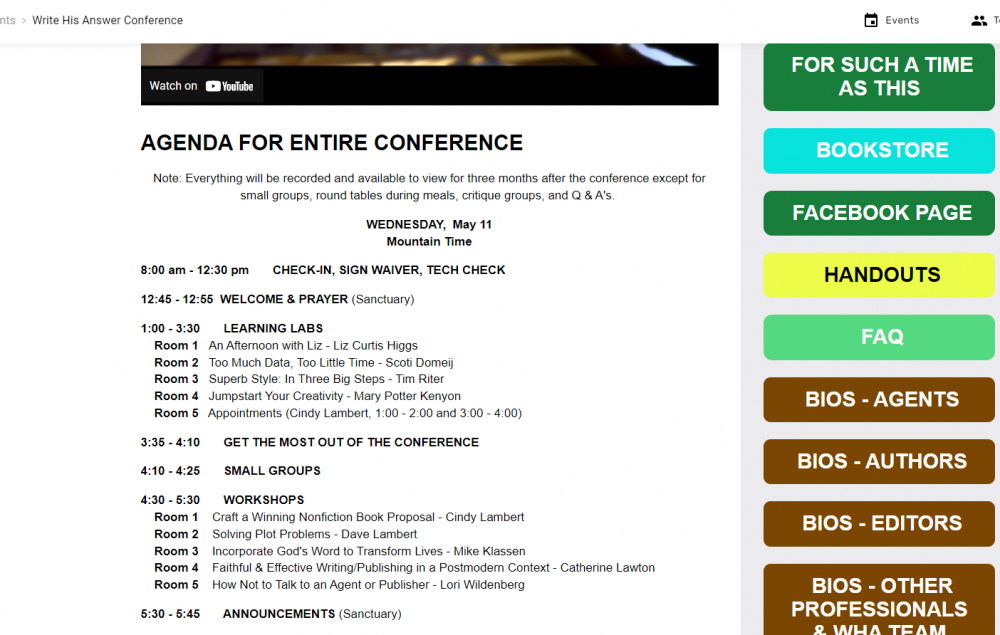 The conference dashboard will not be available until you check in on Wednesday morning, May 11, from 8:00 am – 12:30 pm Mountain Time. Be watching your email on Monday and Tuesday for the URL you will need. (For those who were with us last year, check-in is a much easier process this year.)

SCHEDULE FOR ENTIRE CONFERENCE
Note: Everything will be recorded and available to view for three months after the conference except for small groups, round tables during meals, critique groups, and Q & A's.
WEDNESDAY, May 11
Mountain Time
8:00 am - 12:30 pm CHECK-IN, SIGN WAIVER, TECH CHECK
12:45 - 12:55 WELCOME & PRAYER (Sanctuary)
1:00 - 3:30 LEARNING LABS
Room 1 An Afternoon with Liz - Liz Curtis Higgs
Room 2 Too Much Data, Too Little Time - Scoti Domeij
Room 3 Superb Style: In Three Big Steps - Tim Riter
Room 4 Jumpstart Your Creativity - Mary Potter Kenyon
Room 5 Appointments (Cindy Lambert, 1:00 - 2:00 and 3:00 - 4:00)
3:35 - 4:10 GET THE MOST OUT OF THE CONFERENCE
4:10 - 4:25 SMALL GROUPS
4:30 - 5:30 WORKSHOPS
Room 1 Craft a Winning Nonfiction Book Proposal - Cindy Lambert
Room 2 Solving Plot Problems - Dave Lambert
Room 3 Incorporate God's Word to Transform Lives - Mike Klassen
Room 4 Faithful & Effective Writing/Publishing in a Postmodern Context - Catherine Lawton
Room 5 How Not to Talk to an Agent or Publisher - Lori Wildenberg
5:30 - 5:45 ANNOUNCEMENTS (Sanctuary)
5:45 - 6:15 DINNER & MEET THE AUTHORS
Room 1 Twila Belk - devotions, nonfiction, ghostwriting/collaboration
Room 2 Tez Brooks & Lori Wildenberg - marriage & family living
Room 3 Bob Ruesch - children's books, devotions, biography
Room 4 Holly DeHerrera & Tim Shoemaker - middle grade & YA fiction
Room 5 Jendayi Harris & Tim Riter - nonfiction
Room 6 DeeDee Lake - creative nonfiction, devotionals for teen girls, Christian romance in military setting
Room 7 Gail Kittleson - historical & women's literary fiction, memoir
Room 8 Karen Whiting - nonfiction for children & adults
6:20 - 7:30 EVENING PROGRAM (Sanctuary)
Worship with Marty Goetz
Keynote: The Power of Writing to Change the World - Jesse Florea
7:30 PRAYER FELLOWSHIP (Room 1)
THURSDAY, May 12
Mountain Time
7:45 - 9:10 GENERAL SESSION (Sanctuary)
Welcome
Worship with Marty Goetz
Keynote: The Danger & Power of Words - Edwina Perkins
9:10 - 9:25 SMALL GROUPS
9:30 - 10:30 CONTINUING SESSIONS, Part 1
Room 1 Screenwriting & Story Structure - Dianne E. Butts
Room 2 Writing (& Selling) Personal Experience Stories - B.J. Taylor
Room 3 Idea to Manuscript to Masterpiece - Dr. Sharon Norris Elliott
Room 4 The Successful Author of Nonfiction - Dan Balow
Room 5 Building Rock-Solid Fiction - Tim Shoemaker
Room 6 The Short Road to Publication: Writing Articles & Devotions - Karen Whiting
Room 7 Mastering Marketing - Tamara Clymer
Room 8 Your Writing Life - Dig Deep, Build High - Ava Pennington
Room 9 Writing for Children & Teens - Pam Halter
Room 10 Appointments
Room 11 Appointments
Room 12 Appointments
Room 13 Appointments
Room 14 Appointments
10:30 - 10:45 BREAK
10:45 - 11:45 WORKSHOP # 1 or CLINIC
Room 1 The Sacred Journey - Debbie Alsdorf
Room 2 Art & Science of a Fiction Proposal - Janyre Tromp
Room 3 Starting Strong: Strategies for First Lines & First Pages for
Nonfiction Authors - Jim Hart
Room 4 Six Deadly Self-Publishing Mistakes & How to Fix Them:
Part 1 - Mike Klassen
Room 5 Breaking into the Magazine Market - Jesse Florea
Room 6 Fear Factor - Lori Wildenberg
Room 7 Would God Call You to Write for a Secular Market? - Mary Potter Kenyon
Room 8 Nonfiction Book Proposals Clinic - Cindy Lambert (closed)
Room 9 Fiction Intensive Clinic - Dave Lambert (closed)
Room 10 Appointments
Room 11 Appointments
Room 12 Appointments
Room 13 Appointments
Room 14 Appointments
11:50 - 12:00 ANNOUNCEMENTS (Sanctuary)
12:00 - 12:30 LUNCH & ROUND TABLES
Room 1 Janyre Tromp - Kregal Publications
Room 2 Roy Hanschke - KPOF
Room 3 Rowena Kuo - Brimstone Fiction, Brimstone Books & Media, Brimstone Fire
Room 4 Jonathan Shank - Celebration Web Design
Room 5 Hope Bolinger – End Game Press
Room 6 Scoti Domeij - Blackside Publishing, Havok Journal
Room 7 Blythe Daniel - The Blythe Daniel Agency Inc.

12:35 - 12:45 SPOTLIGHT - Lori Wildenberg (Sanctuary)
12:45 - 1:25 PANELS
Sanctuary Indie Publishers
Room 1 Agents
1:25 - 1:40 SMALL GROUPS
1:45 - 2:45 WORKSHOP # 2 or CLINIC
Room 1 Successful Co-Authoring – Jesse Florea & Karen Whiting
Room 2 Deep POV - Darcie Gudger
Room 3 Memoir Writing - Gail Kittleson
Room 4 Peaks & Pitfalls in Indie Publishing - Bob Ruesch & Roy Hanschke
Room 5 The Anatomy of the Query - Tez Brooks
Room 6 Magnify Your Message - Patti Shene
Room 7 Write for the Reader - Lori Wildenberg
Room 8 Nonfiction Book Proposals Clinic - Cindy Lambert (closed)
Room 9 Fiction Intensive Clinic - Dave Lambert (closed)
Room 10 Appointments
Room 11 Appointments
Room 12 Appointments
Room 13 Appointments
Room 14 Appointments
2:45 - 3:00 BREAK
3:00 - 4:00 CONTINUING SESSIONS, Part 2
Room 1 Screenwriting & Story Structure - Dianne E. Butts
Room 2 Writing (& Selling) Personal Experience Stories - B.J. Taylor
Room 3 Idea to Manuscript to Masterpiece - Dr. Sharon Norris Elliott
Room 4 The Successful Author of Nonfiction - Dan Balow
Room 5 Building Rock-Solid Fiction - Tim Shoemaker
Room 6 The Short Road to Publication: Writing Articles & Devotions - Karen Whiting
Room 7 Mastering Marketing - Tamara Clymer
Room 8 Your Writing Life - Dig Deep, Build High - Ava Pennington
Room 9 Writing for Children & Teens - Pam Halter
Room 10 Appointments
Room 11 Appointments
Room 12 Appointments
Room 13 Appointments
Room 14 Appointments
4:05 - 4:15 ANNOUNCEMENTS (Sanctuary)
4:15 - 5:00 CRITIQUE GROUPS or Q & A's
Room 1 Critique parenting articles & books - Lori Wildenberg
Room 2 Critique fiction - Dan Mawhinney & Darlene Shortridge
Room 3 Critique children's books & biography - Robert Ruesch
Room 4 Critique nonfiction - Tim Riter
Room 5 Q & A - Creating a brand - Karen Whiting
Room 6 Q & A - Writing for magazines - Sherri Langton
Room 7 Q & A – middle grade and YA fiction – Tim Shoemaker
Room 8 Appointments
5:05 - 5:15 SPOTLIGHT AUTHORS (Sanctuary)
5:15 - 5:45 DINNER & ROUND TABLES
Room 1 John Herring - Iron Stream Media
Room 2 Debbie Alsdorf - Books & Such Literary Management
Room 3 Terry Whalin - Morgan James Publishing
Room 4 Tamara Clymer - CrossRiver Media Group
Room 5 Susan Baganz - Pelican Book Group
Room 6 Marti Pieper - Charisma Media
Room 7 Susan Neal, CIPA and CAN
Room 8 Appointments
Room 9 Appointments

5:45 - 6:00 BREAK
6:00 - 7:30 EVENING PROGRAM
Worship with Marty Goetz
Mission Moments: Grand Staff Ministries - Becky Spencer
Keynote: Why Don't the Lights Work - Dr. Sharon Norris Elliott
7:30 - 8:30 PANEL - For Such a Time as This (Room 2)
8:30 PRAYER FELLOWSHIP (Room 1)
FRIDAY, May 13
Mountain Time
7:45 - 9:10 GENERAL SESSION (Sanctuary)
Worship with Marty Goetz
Keynote: Ministering to Our Readers - Liz Curtis Higgs
9 10 - 9:25 SMALL GROUPS
9:30 - 10:30 CONTINUING SESSIONS, Part 3
Room 1 Screenwriting & Story Structure - Dianne E. Butts
Room 2 Writing (& Selling) Personal Experience Stories - B.J. Taylor
Room 3 Idea to Manuscript to Masterpiece - Dr. Sharon Norris Elliott
Room 4 The Successful Author of Nonfiction - Dan Balow
Room 5 Building Rock-Solid Fiction - Tim Shoemaker
Room 6 The Short Road to Publication: Writing Articles & Devotions - Karen Whiting
Room 7 Mastering Marketing - Tamara Clymer
Room 8 Your Writing Life - Dig Deep, Build High - Ava Pennington
Room 9 Writing for Children & Teens - Pam Halter
Room 10 Appointments
Room 11 Appointments
Room 12 Appointments
Room 13 Appointments
Room 14 Appointments
10:30 - 10:45 BREAK
10:45 - 11:45 WORKSHOP # 3 or CLINIC
Room 1 Self-Editing, Spelling & Style - Twila Belk
Room 2 Use Figurative Language for More Effective Description -
Holly DeHerrera
Room 3 Writing Epic Bible Studies for a Post-Pandemic World - John Herring
Room 4 Six Deadly Self-Publishing Mistakes & How to Fix Them: Part 2 - Mike Klassen
Room 5 What's In/What's Out in Publishing - Blythe Daniel
Room 6 Increase Website Traffic thru Blogging & Pinterest - Susan Neal
Room 7 Reaching Children & Youth - 2 mini workshops
Do's & Don'ts Writing for Children - Jesse Florea
Reaching Youth with Your Writing - Tim Shoemaker
Room 8 Nonfiction Book Proposals Clinic - Cindy Lambert (closed)
Room 9 Fiction Intensive Clinic - Dave Lambert (closed)
Room 10 Appointments
Room 11 Appointments
Room 12 Appointments
Room 13 Appointments
Room 14 Appointments
11:50 - 12:00 ANNOUNCEMENTS (Sanctuary)
12:00 - 12:30 LUNCH & ROUND TABLE
Room 1 Jim Hart - Hartline Literary Agency
Room 2 Edwina Perkins - Harambee Press and Iron Stream Media
Room 3 Sherri Langton - Bible Advocate, Now What? e-zine
Room 4 Jonathan Shank - Celebration Web Design
Room 5 Daniel Mawhinney & Darlene Shortridge - 40 Day Publishing
Room 6 Cathy Lawton - CLADACH Publishing
Room 7 Jesse Florea - Focus on the Family Youth Publications
12:35 - 12:45 SPOTLIGHT - Imagination Videobooks - Richard Rieman (Sanctuary)
12:45 - 1:25 PANELS
Sanctuary Book Editors
Room 1 Magazine Editors
1:25 - 1:40 SMALL GROUPS
1:45 - 2:45 WORKSHOP # 4 or CLINIC
Room 1 Writing, Health & Spiritual Life Balance - DeeDee Lake
Room 2 Tapping into Your Own Story - Holly DeHerrera
Room 3 Book Doctor: Take Your Nonfiction from Good to Great - Marti Pieper
Room 4 Everyone is Self-publishing - Or So It Seems - Terry Whalin
Room 5 Create a Caviar Audiobook on a Tuna Fish Budget - Richard Reiman
Room 6 Revolutionary Writing - Darcie Gudger
Room 7 Secrets of Writing for and About Males - Tez Brooks
Room 8 Nonfiction Book Proposals Clinic - Cindy Lambert (closed)
Room 9 Fiction Intensive Clinic - Dave Lambert (closed)
Room 10 Appointments
Room 11 Appointments
Room 12 Appointments
Room 13 Appointments
Room 14 Appointments
2:45 - 3:00 BREAK
3:00 - 4:00 CONTINUING SESSIONS, PART 4
Room 1 Screenwriting & Story Structure - Dianne E. Butts
Room 2 Writing (& Selling) Personal Experience Stories - B.J. Taylor
Room 3 Idea to Manuscript to Masterpiece - Dr. Sharon Norris Elliott
Room 4 The Successful Author of Nonfiction - Dan Balow
Room 5 Building Rock-Solid Fiction - Tim Shoemaker
Room 6 The Short Road to Publication: Writing Articles & Devotions - Karen Whiting
Room 7 Mastering Marketing - Tamara Clymer
Room 8 Your Writing Life - Dig Deep, Build High - Ava Pennington
Room 9 Writing for Children & Teens - Pam Halter
Room 10 Appointments
Room 11 Appointments
Room 12 Appointments
Room 13 Appointments
Room 14 Appointments
4:05 - 4:15 ANNOUNCEMENTS (Sanctuary)
4:15 - 5:00 CRITIQUE GROUPS or Q & A's
Room 1 Critique women's literary & historical fiction - Gail Kittleston
Room 2 Critique middle grade mystery, mainstream inspirational fiction - Holly DeHerrera
Room 3 Critique nonfiction - Jendayi Harris
Room 4 Critique personal experience stories - Marlene Bagnull
Room 5 Q & A - What makes a great devotional book? - Tez Brooks
Room 6 Q & A - What to expect after the conference? - DeeDee Lake
Room 7 Appointments - Sharon Norris Elliott, 4:30 - 5:00
5:05 - 5:15 SPOTLIGHT AUTHORS (Sanctuary)
5:15 - 5:45 DINNER & ROUND TABLES
Room 1 Michael Klassen – Illumify Media Global
Room 2 Amanda Jenkins - AMG Publishers
Room 3 Debbie Hardy - ChristianDevotions.us
Room 4 Dr. Sharon Norris Elliott - AuthorizeMe
Room 5 Jeanette Littleton - EABooks Publishing
Room 6 Eric Sprinkle - Adventure Experience
Room 7 AWSA Coaches - Ava Pennington, Marti Pieper, Susan Neal
Room 8 Appointment (Cindy Lambert)
5:45 - 6:00 BREAK
6:00 - 7:30 NIGHT OF CELEBRATION & TESTIMONIES
Worship with Marty Goetz
Keynote: The Persevering Writer - Bob Hostetler
Testimonies - Linda Evans Shepherd, Tim Shoemaker & others
7:30 - 8:30 PANEL - For Such a Time as This (Room 2)
8:30 PRAYER FELLOWSHIP (Room 1)
SATURDAY, May 14
Mountain Time
7:45 - 9:10 GENERAL SESSION (Sanctuary)
Worship with Marty Goetz
Keynote: Sitting at His Feet - Liz Curtis Higgs
9 10 - 9:25 SMALL GROUPS
9:30 - 10:30 WORKSHOP # 5 or CLINIC
Room 1 Make Your Writing Sing - Twila Belk
Room 2 First Round Fiction Editors Using Story Structure - Janyre Tromp
Room 3 The Literature of Personal Disaster - Sherri Langton
Room 4 Alternatives for Publishing Your Book - Shane Crabtree
Room 5 Editors Read Book Proposals Not Manuscripts - Terry Whalin
Room 6 HT Market Your Book When You Don't Want to & Don't Know How - Debbie Hardy
Room 7 Seasoned with Salt - Becky Spencer
Room 8 Nonfiction Book Proposals Clinic - Cindy Lambert (closed)
Room 9 Fiction Intensive Clinic - Dave Lambert (closed)
Room 10 Appointments
Room 11 Appointments
Room 12 Appointments
Room 13 Appointments
Room 14 Appointments
10:30 - 10:45 BREAK
10:45 - 11:45 WORKSHOP # 6 or CLINIC
Room 1 Perseverance - Jendayi Harris
Room 2 Fantasy Genres … Where Do I Belong? - Rowena Kuo
Room 3 Narrative Nonfiction: The Power of Story - Marti Pieper
Room 4 How to Create a Professional Looking Book - Susan Neal
Room 5 Where's God in All This? - Tez Brooks
Room 6 Building a Platform that's Genuine - Blythe Daniel
Room 7 Reaching Women - Linda Evans Shepherd
Room 8 Nonfiction Book Proposals Clinic - Cindy Lambert (closed)
Room 9 Fiction Intensive Clinic - Dave Lambert (closed)
Room 10 Appointments
Room 11 Appointments
Room 12 Appointments
Room 13 Appointments
Room 14 Appointments
11:50 - 12:00 ANNOUNCEMENTS (Sanctuary)
12:00 - 12:30 LUNCH & ROUND TABLES
Room 1 Becky Spencer - Grand Staff Ministries
Room 2 Pam Halter - Fruitbearer Kids
Room 3 Linda Evans Shepherd - AWSA (Advanced Writers & Speakers Association)
Room 4 Dan Balow - The Steve Laube Agency
Room 5 Jeanette Littleton - Standard, Indian Life, & compilations
Room 6 Shane Crabtree - Christian Book Services, Carpenter's Son Publishing, Clovercroft Publishing, Sports Publishing Group
Room 7 Patti Shene – Step into the Light Podcast
12:35 - 12:45 SPOTLIGHT AUTHORS
12:45 - 1:25 WILL THEY READ ON?
Sanctuary Book Editors Panel
Room 1 Magazine Editors Panel
1:25 - 1:40 SMALL GROUPS
1:45 - 3:15 CONTINUING SESSIONS, Part 5
Room 1 Screenwriting & Story Structure - Dianne E. Butts
Room 2 Writing (& Selling) Personal Experience Stories - B.J. Taylor
Room 3 Idea to Manuscript to Masterpiece - Dr. Sharon Norris Elliott
Room 4 The Successful Author of Nonfiction - Dan Balow
Room 5 Building Rock-Solid Fiction - Tim Shoemaker
Room 6 The Short Road to Publication: Writing Articles & Devotions - Karen Whiting
Room 7 Mastering Marketing - Tamara Clymer
Room 8 Your Writing Life - Dig Deep, Build High - Ava Pennington
Room 9 Writing for Children & Teens - Pam Halter
Room 10 Appointments
Room 11 Appointments
Room 12 Appointments
Room 13 Appointments
Room 14 Appointments
Room 15 Appointments (Dave Lambert 1:45 - 2:50)
3:15 - 3:30 SMALL GROUPS
3:30 - 5:00 CLOSING SESSION
Worship with Marty Goetz
Awards & Give Aways
Keynote: Find Your Place at the Table - Tim Shoemaker
Time of Commitment