A jam-packed day filled with
new friends & learning new skills
Ages 12 – 18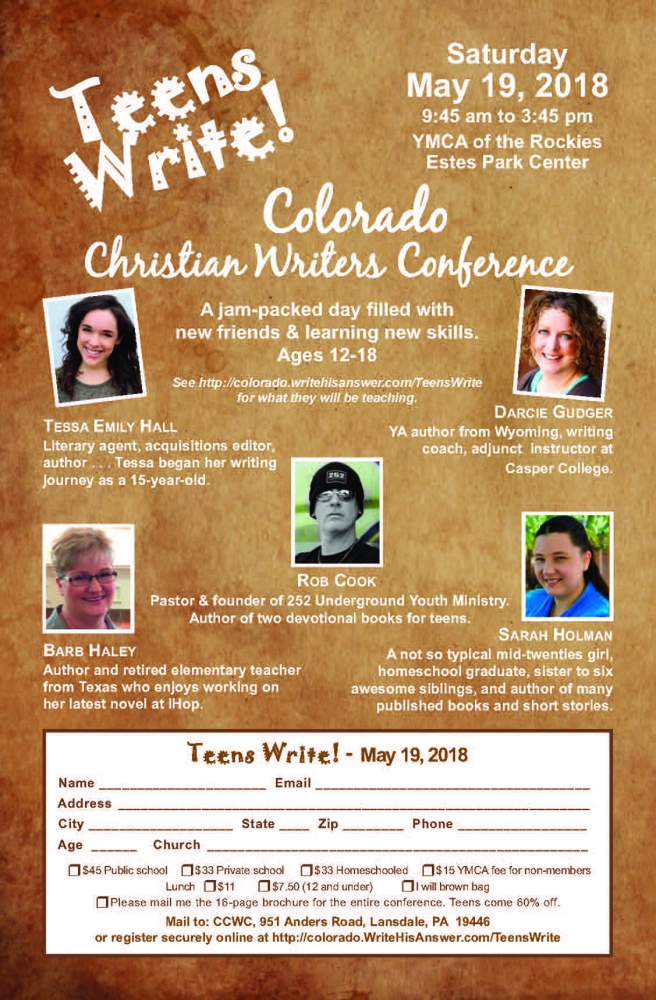 For a PDF of the above flyer click here.
Want a bunch to share with friends? Email mbagnull@aol.com.

COST: Only $45
Homeschooled: Only $33
Christian Schooled: Only $33
plus $15 if you are not a YMCA member
and are not staying on campus
Better still register for the entire conference at 60% off
and Teens Write is included.

Email mbagnull@aol.com for a brochure.
(You can also access it online – click here.)

Lunch in Aspen Dining Hall $11
12 and under $7.50
or brown bag.
Click here to register.


8:30 – 9:30
You're welcome to attend the Saturday morning keynote:
Shoot Higher – Tim Shoemaker
---
9:45 – 10:30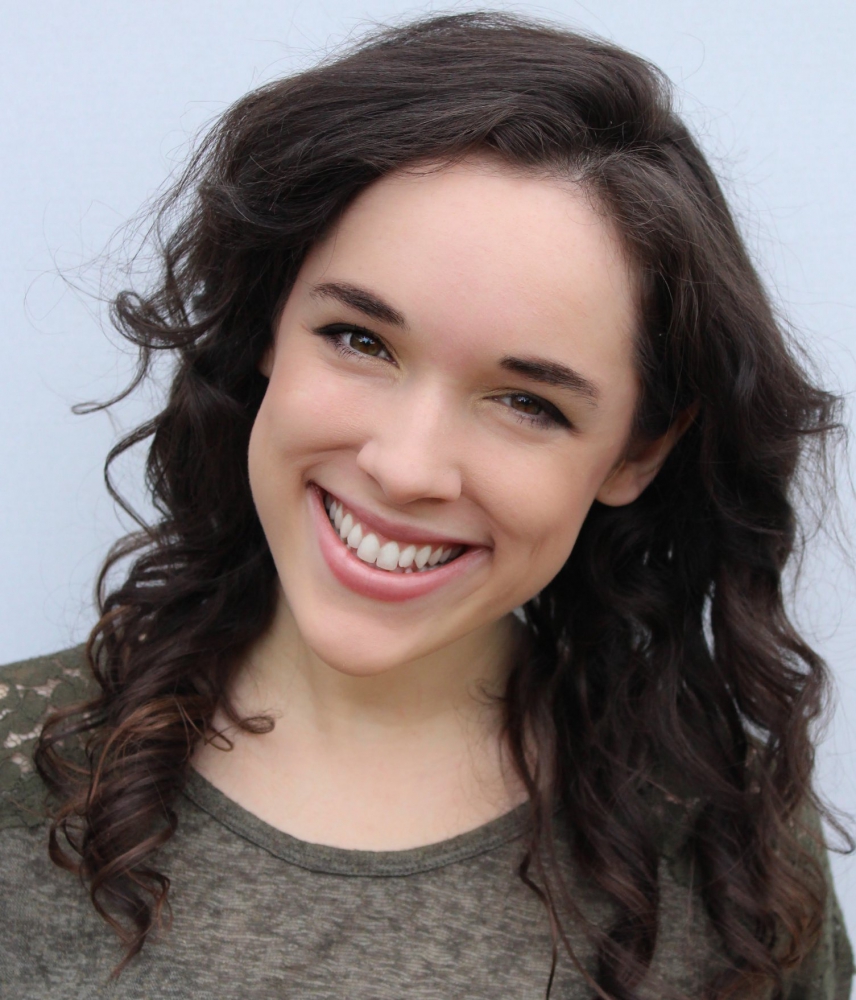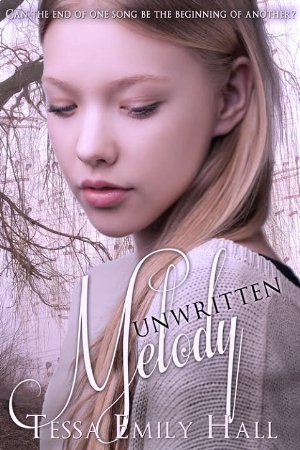 Tessa Emily Hall
Assistant to Cyle Young, Hartline Literary Agency
YA Acquisitions Editor, Illuminate YA
(Lighthouse Publishing of the Carolinas Imprint)
Founder/Editor, PursueMagazine.net
Author
Tessa writes inspirational yet authentic YA fiction to show teens they're not alone. Her passion for shedding light on clean entertainment and media for teens led her to a career as an Assistant to Cyle Young at Hartline Literary Agency, YA Acquisitions Editor for Illuminate YA (LPC Imprint – click here for editorial needs), and Founder/Editor of PursueMagazine.net. Tessa's first teen devotional, COFFEE SHOP DEVOS, will release with Bethany House in 2018. She's guilty of making way too many lattes and never finishing her to-read list. When her fingers aren't flying 116 WPM across the keyboard, she can be found speaking to teens, decorating her insulin pump, and acting in Christian films. Her favorite way to procrastinate is by connecting with readers on her blog, mailing list, social media (@tessaemilyhall), and website: www.tessaemilyhall.com.
You're Never Too Young to Begin Your Writing Journey
When I began my writing journey at 15-years-old, I soon discovered that adults had differing opinions about teen writers. While most were supportive, others advised that I stay away from pursuing the writing journey until later in life. In this workshop, I'll give a brief overview of my writing journey—including how I received a publishing contract at 16-years-old—and discuss the pros and cons of pursuing writing at an early age.
---
10:45 – 11:45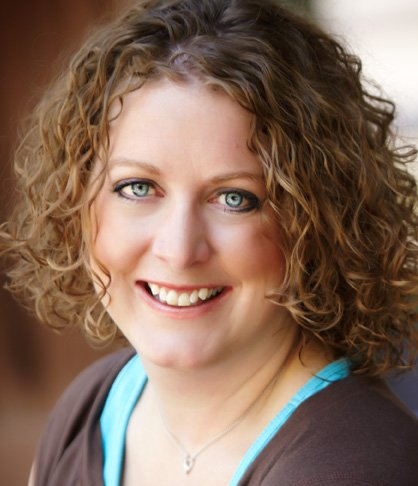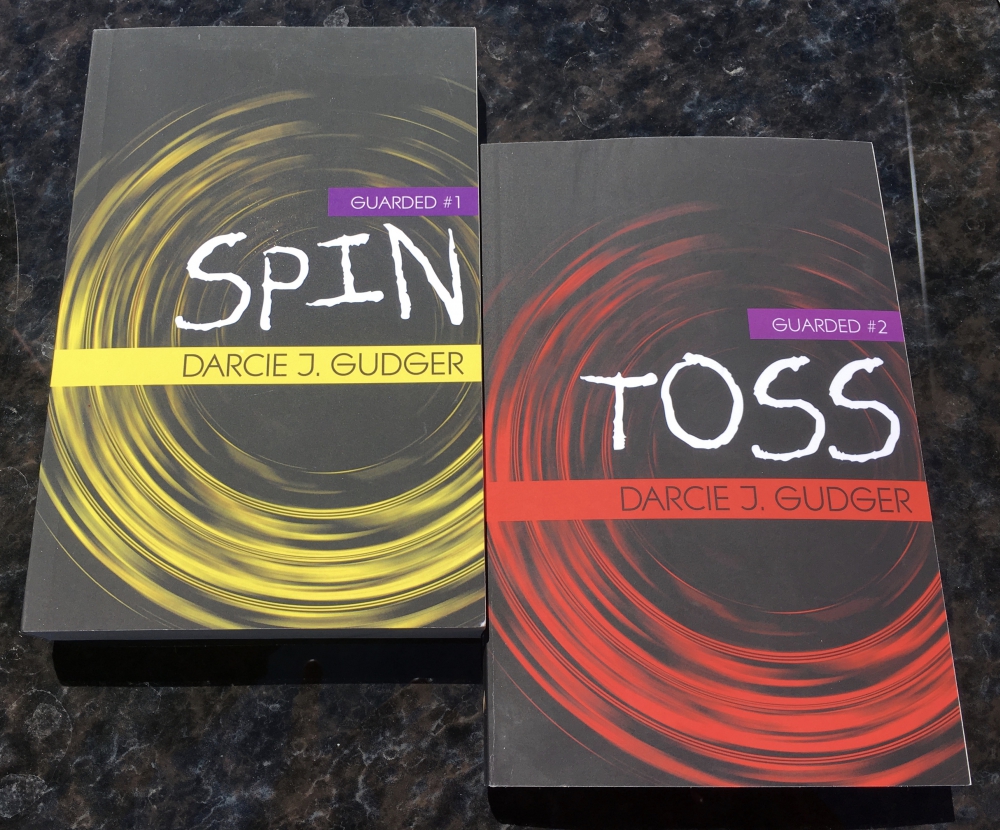 Darcie J. Gudger – Moderator
YA Author
Adjunct Instructor, Casper College
Freelance Editor, Writing Coach
Co-founder/ leader WY Write
www.darciejgudger.com


Darcie lives in the windy state of Wyoming with her husband, son, and a variety of demanding pets. When not writing or striving to keep things from blowing away, Darcie enjoys reading, walking her psycho dog, biking, knitting, crocheting, and stalking Wyoming's wildlife.
She earned her B.A. in psychology from Houghton College and her Masters of Education from the University of Colorado, Denver. She spent 4 years in the classroom as a high school special education teacher. For 15 years, Darcie instructed several award-winning scholastic color guard teams from Colorado. She was also on staff with WGI Open class semi-finalist team Malachi Independent Winter Guard. Currently, Darcie is an adjunct instructor at Casper College teaching courses on the craft of writing. She also facilitates WY Write, a group for Christian writers in the state of Wyoming.
A hopeless book addict, Darcie is on a mission to help writers write great books she would love to read.
Please note: Darcie hates writing about herself in the 3rd person. It's not natural.
Got Plot?
Every story has a hero and villain. I will show you how to plot out your story using one of the most tried and true methods - the Hero's Journey. Be prepared to brainstorm!
---
11:45 – 12:45 Lunch in Aspen Dining Hall or brown bag
---
1:00 – 1:45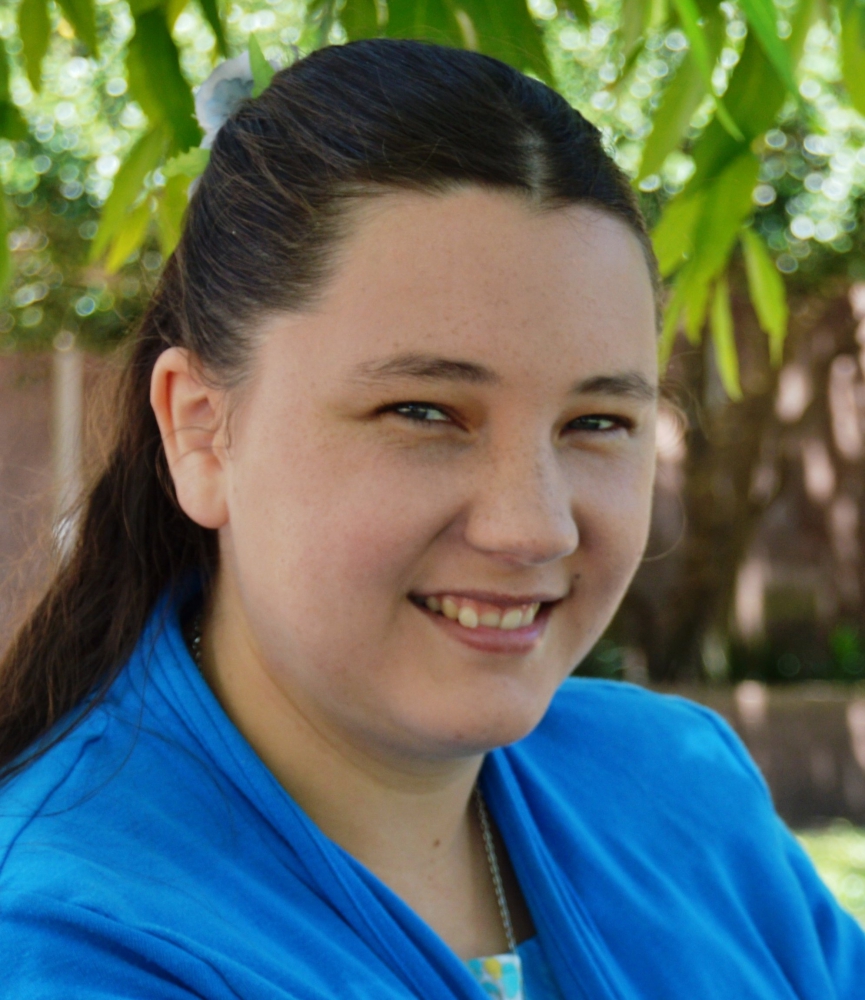 Sarah Holman
Founder and Administrator
HomeschooledAuthors.com
Author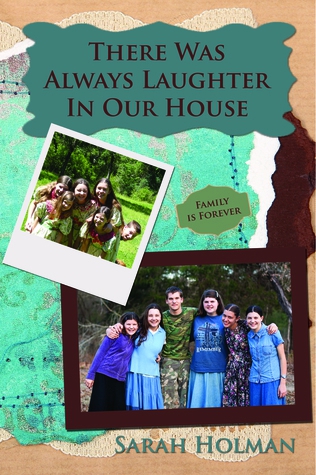 Sarah is a not so typical mid-twenties girl: A homeschool graduate, sister to six awesome siblings, and author of many published books and short stories. If there is anything adventuresome about her life, it is because she serves a God with a destiny bigger than anything she could have imagined.
In her book, There Was Always Laughter in Our House, Sarah shares stories about her family that range from thought-provoking to side-splitting. What do you get when you mix two parents who grew up in the city, six kids who have always lived in the country, and add homeschooling? You get a whole lot of laughter! She shares both hilarious mistakes and heartbreaking moments in her family. In this collection of stories, she endeavors to capture some of the answers to the questions people have often asked her about growing up in a conservative homeschool family as well as some of the wisdom she has gleaned along the way. Sarah invites you to open up this scrapbook of memories. She hopes that you come away encouraged, inspired…and laughing.
Reaching Your Readers
Who is your audience and how do you reach them with a message? Often, writers, especially young ones, have messages and stories they want to tell. This workshop will teach them to identify their audience, how to gear their story to that audience, and how to develop a message that will reach that audience.
---
2:00 – 2:45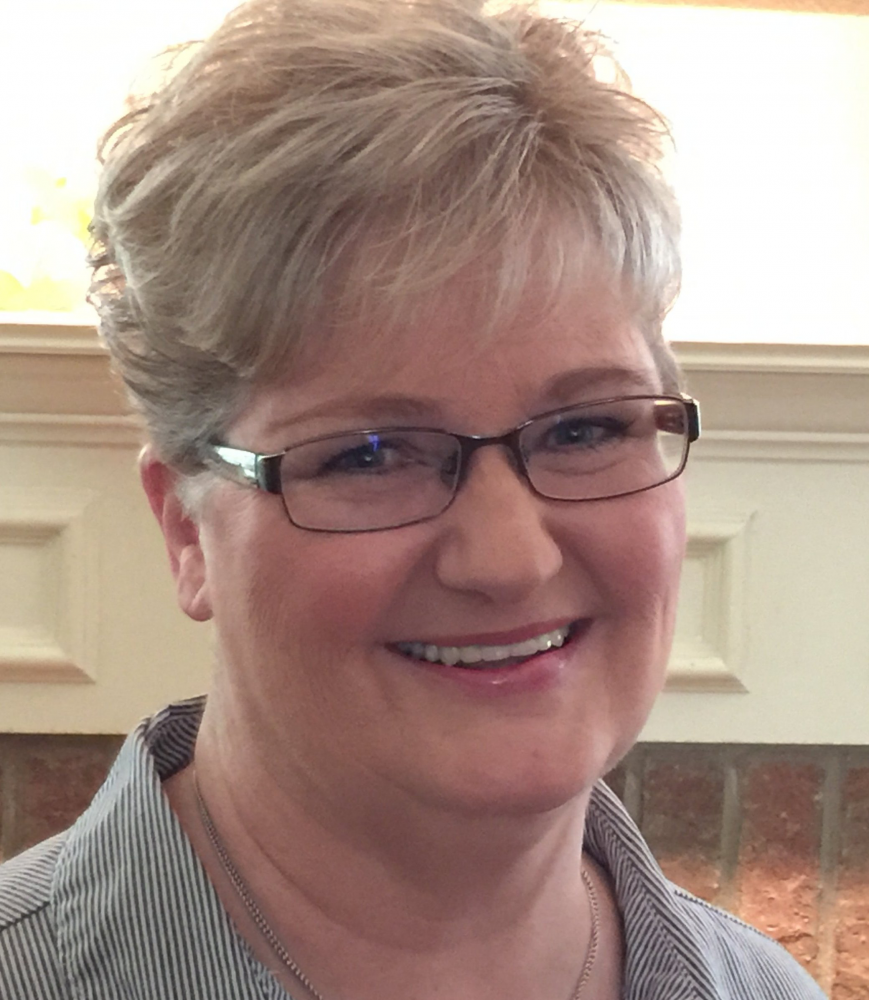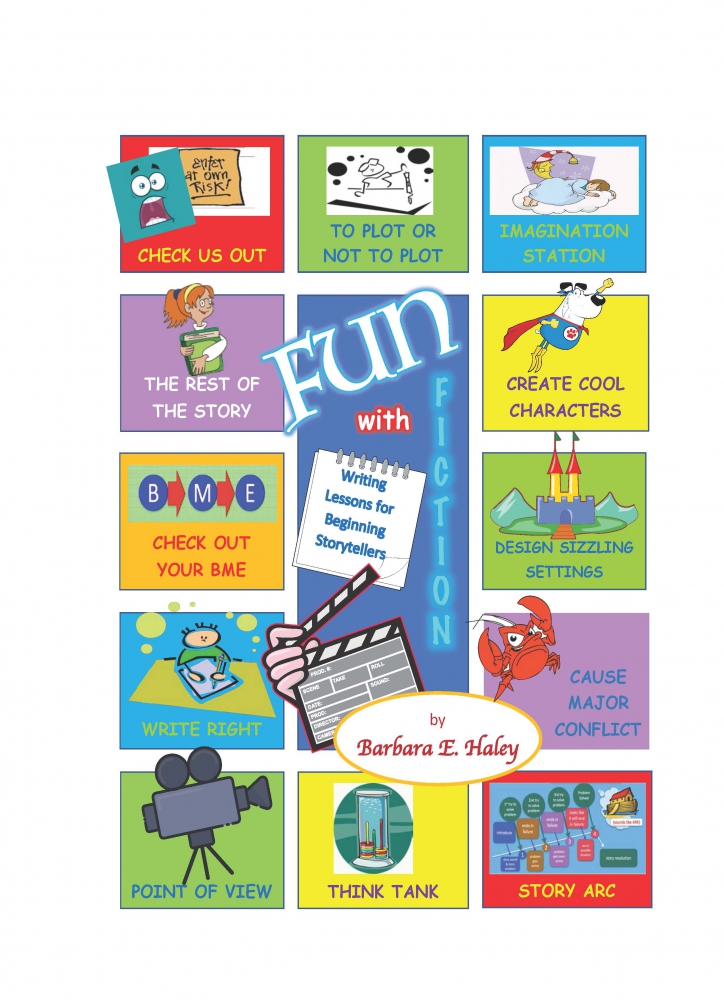 Barbara E. Haley
Author
Conference Registrar
Appointments Coordinator
Bookstore Manager
www.barbarahaleybooks.com

Barbara, a retired elementary teacher and Reading Interventionist, lives in San Antonio, Texas, where she enjoys writing at IHOP, tutoring, and spending time with her grandchildren.
She's published three juvenile fiction books and has written devotions for A Secret Place and The Quiet Hour for over 10 years. Her latest devotional book, Lord, Get Your Needle—I'm Falling Apart at the Seams, deals with the emotional strain of chronic pain. In March, 2017, her short story "Hidden Treasure" was published in Chicken Soup for the Soul—Best Mom Ever.
Whether through fiction or nonfiction, Barbara strives to equip readers to search for God's healing truth as they learn to "Face Facts in a World of Fiction."
In May, 2016, Barbara was named Writer of the Year at the Colorado Christian Writers Conference.
Getting Into Your Characters' Heads
"Draw your readers into your point-of-view character's mind so thoroughly that they will feel as if they are living inside the character's skin." Learn tips and tricks to eliminate "showing" from your writing. Replace it with real-time thoughts and emotional reactions!
---
3:00 – 3:30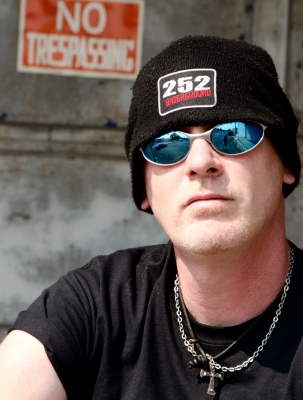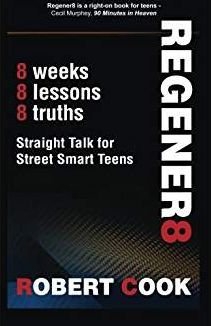 Robert Cook
Author, Pastor
Founder, 252 Underground Youth Ministry

Rob is the award-winning, international bestselling author of REGENER8 and ILLUMIN8, two teen devotionals. His newest title, Youthanize: Death of the Traditional Youth Ministry, will inspire and teach others how to reach young people with the message of the gospel. Rob has dedicated the last 20+ years of his life to reaching teens for Christ as the executive director and pastor of 252 Underground Youth Ministry, a parachurch organization he founded in 2004. He is the lead pastor of a church in Philadelphia, where he lives with his wife Stephanie and their son Christian. You can find him on Facebook.
Listen to the Right Voices
It can be hard to stay positive in this negative world. You need to surround yourself with people who believe in you when you struggle with doubt. If God is calling you to write, He will open the doors. Sometimes He even rips them off the hinges.
---
3:30 – 3:45 Wrap up! – Darcie Gudger
---
4:00 – 5:00
You're welcome to attend the presentation of awards, worship and
Keynote – How to Pray through a call to Write
Linda Evans Shepherd
---
Parents, Teachers, Pastors
are welcome to attend workshops during Teens Write at the special price of $25 for one, $45 for two, or $65 for three plus the $15 YMCA daily fee if you are not a member or you are not staying on campus. You can pay at the door or register on the Teens Write form. You and your teen(s) are welcome to attend the 8:30 am and 4:00 pm keynote presentations free of charge.

10:45 - 11:45
5A – Journaling with Jesus
Carol Round
Do you find it difficult in your busy day to spend time with God? Do you find yourself falling asleep when you spend time alone in prayer? Do you find that your prayer life has become stale? Maybe you need to try Journaling with Jesus. "Let us draw near to God with a sincere heart and with the full assurance that faith brings, having our hearts sprinkled to cleanse us from a guilty conscience and having our bodies washed with pure water" (Hebrews 10:22 NIV).
5B – Everyday Writing - How to Use Your Gifts in Unexpected Ways to Change the World
David Rupert
Does your writing "success" depend on a published book, a contract, or a growing platform? In this session you'll learn the power of using your gift in unexpected ways. Your words were meant to be used to bless the world.
5C – Mastering Realistic Dialogue
Rowena Kuo
From books to screenplays, effective dialogue factors into the success of each scene, delivers the message you want portrayed, and guides the overall tone as your story unfolds. What are the vital components to writing engaging dialogue between your characters? We'll discuss the methods, vernacular, and culture behind the motives of your characters and how these impact the relationship between your characters and your reader. Utilize the top 10 traits that can captivate your audience through the emotions embedded within dialogue exchange to distinguish your writing from what is ordinary to what can be considered profound.
5D – Writing to Men
Dan Balow
How they are the same or different.
5E – Back Cover Copy
Shelley Ring
Some writers have a natural knack to write sell copy. Others don't know how or where to start. Shelley Ring has written back cover copy for traditional publishers, as well as for indie authors. She breaks down how to write a short, sweet package to woo readers to buy your book. This practical, how-to workshop:
diagnoses the hook, structure, benefits, components, and word counts for fiction and nonfiction back cover copy
teaches you how to write your fiction or nonfiction back cover copy
identifies how to write the various elements of a complete copy package to promote your book.
Bring your synopsis or current WIP (work in progress) and be prepared to write.
5F – Creative Marketing Plans
Tamara Clymer
When publishers look at your proposal, they want to know what you plan to do to market your book. They aren't so much interested in your 500 Facebook friends or the 800 members of your local church. They need to know what you will do to keep your book moving after you work through those lists. Tamara will offer some specific ideas to move you outside of your marketing box and get your book noticed.
5G – Reach Kids with the Gospel
Terrence Clark
Only the Holy Spirit can reveal Jesus. We'll explore our need to tap into the power, person, and presence of the Parakletos Himself in ministering to kids of all ages.
---
1:00 – 2:30 Part 5 of the Continuing Sessions
1 – Write from the Deep
Erin Taylor Young
God's call is clear: Come away with Him. Let His words sink deep into us first, then take His truths to the world. In the challenging world of publishing, we need a way to find refreshment, renewal, and restored passion. And there's no better place to do that than in the deep places. These interactive sessions will challenge you to go deep with God in your call and craft. We'll explore how God uses the deep to help us find our story, hone our message, and understand our audience. Finally, we'll talk about how to equip ourselves to face down obstacles—both external and internal.
2 – Writing Narrative Nonfiction
Craig von Buseck
With blockbusters like Team of Rivals and Unbroken dominating the best-seller lists, the narrative nonfiction genre is a burgeoning market for writers who want to tell true stories with powerful messages. Learn the difference between narrative nonfiction, biography, and historical fiction. Discover how true stories can unlock the hearts of your readers to the ways God can move supernaturally in the lives of people who seek Him.
3 – Writing Women's Fiction
Deborah Raney
Craft a novel with a life-changing message without being preachy. We'll cover many writing tools that apply to all genres: strong characterization, complex plots, and deft use of point-of-view. But we'll also discuss key elements unique to contemporary women's fiction: addressing social issues in fiction, creating likeable-yet-flawed characters, using strong dialogue, creating page-turning action (despite a lack of explosions or car chases), and writing cinematically (making it that much more likely your book might become a movie).
4 – Screenwriting
Brian Bird
Soup-to-nuts advice for authors adapting their own stories into screenplays. The necessary ingredients for creating a compelling Act One. Plot or Character…Which Comes First? The Answer is…YES! The essential toolbox of screenwriter superpowers and truths of the trade no screenwriter can succeed without. The 12 Stages of the Hero's Journey behind every great movie and the Mythic Orchestra behind the greatest movie characters of all time. The decade long odyssey and lessons learned behind the hit television show and adaptation of best-selling author Janette Oke's beloved book series, When Calls the Heart.
5 – Your Book Launch Game Plan
Scoti Domeij
Most writers spend their time writing a manuscript and very little time figuring out how they'll market their book. The biggest secret no one tells you behind an author landing an agent or book contract or making money in self-publishing—a savvy book marketing plan. Your Book Launch Game Plan provides a step-by-step, month-by-month, how-to action plan that covers the nitty-gritty groundwork of book marketing. It lays out a 6-month timeline to build a social media platform, to create pre-release marketing buzz, to launch your book, and to promote your book throughout the year after your book launches.
6 – Advanced Fiction Writing
Dave Lambert
Ready to take your fiction to the next level? Join Dave in an examination of some of the more advanced techniques: character growth and change, creating believable character emotion, voice, exposition, a sense of place, style, conveying meaning through implication, and more. Time will be set aside to discuss the problems you're encountering in your work-in-progress. Come prepared!
7 – Writing that Changes Lives
Bill Watkins
Culture changes one life at a time. And those personal changes impact the lives of others, eventually bringing about changes in policies, laws, business, entertainment, education, the church, and a host of other spheres in society. Although there are multiple causes of change, one that's proven effective long after its author is gone is writing. But not just any writing. It must be writing that connects, challenges, provokes, inspires, casts vision, provides hope, and refuses to back away from telling the truth. It does not waste time with the trivial and the comfortable. Instead it takes readers more deeply into the true, the good, and the beautiful in all their power and mystery. Come learn how to write to change lives and eventually cultures.
8 – Indie Publishing
Ken Raney
Discover the pitfalls, snags & triumphs two writers experienced when Bob Ruesch used an indie publishing company and Roy Hanschke went with a traditional publisher. In the next 3 sessions Ken will address formatting the interior and designing professional looking book covers, business cards, newsletters, blogs and websites, bookmarks, postcards, email signatures, ads, and more along with accessible online resources for writers such as templates, themes, stock photography, fonts, photomanipulation programs, etc. Practical and user-friendly info even for non-techies. The last session features a panel of indie authors.
---
2:45 – 3:45
6A – Pursue His Purpose
Judy Dunagan
Discover how your passion for writing can become an act of worship. We will dive into Hebrews 12 and focus on the importance of pursuing HIS purpose for your writing. We will also look at what it means to surrender the dream to get published, while still pursuing that dream.
6B – Being Relevant to Contemporary Readers
Rick Marschall
Modernism; post-modernism; reaching Millennials; Generation X, Y, and... Z? How can you reach today's new audiences? How can you win souls when you can't speak their language? And, how can you be relevant without wading into popular-culture trash? Rick Marschall, who has been Editor of Marvel Comics and a writer for Disney, will help you navigate these treacherous waters.
6C – Creating Characters that Grab Your Reader
Jennifer Slattery
Some characters entertain us; others grab hold of us and don't let go. A well-crafted character grabs the reader at their deepest heart level, causing them to see themselves in the character's struggles and victories. In this discussion on abstract and concrete goals, inner lies, black moments, and character arcs, writers will learn how to take their readers from merely enjoying their stories to living them.
6D – Master the Memoir
Marti Pieper
Do you have a life story the world needs to hear? Do you want to leave a legacy in print for family, friends, and beyond? In this workshop, Marti discusses the dos and don'ts of this popular genre, including the importance of a narrative thread, how thinking small makes a big difference, and the mystery of marketability.
6E – Matchmaker, Matchmaker
Sherri Langton
Have you poured your heart and soul into an article and submitted it to a magazine, only to have it crash land in the rejection pile? Often the problem isn't poor writing but a poor match—you really don't know what the magazine is about. Though editors urge you to familiarize yourself with their publications, how exactly do you study a magazine? In this workshop, we will learn tools of analyzing a magazine and how to shape your writing for different markets. Bring an article you haven't submitted yet, a reprint of a published article, or an idea, and we'll spend time finding the right match.
6F –Branding for People Who Are Not Cows
Peter Lundell
A step-by-step approach to building a marketing identity that focuses on an author's uniqueness.
6G – Writing for CBN.com
Beth Patch
Each week over 2 million pages are opened on the site. Learn what types of content CBN.com accepts for each section of the online magazine and your rights regarding content shared with CBN.