Don't miss the pre-conference
workshops and zoom meetings. Click here.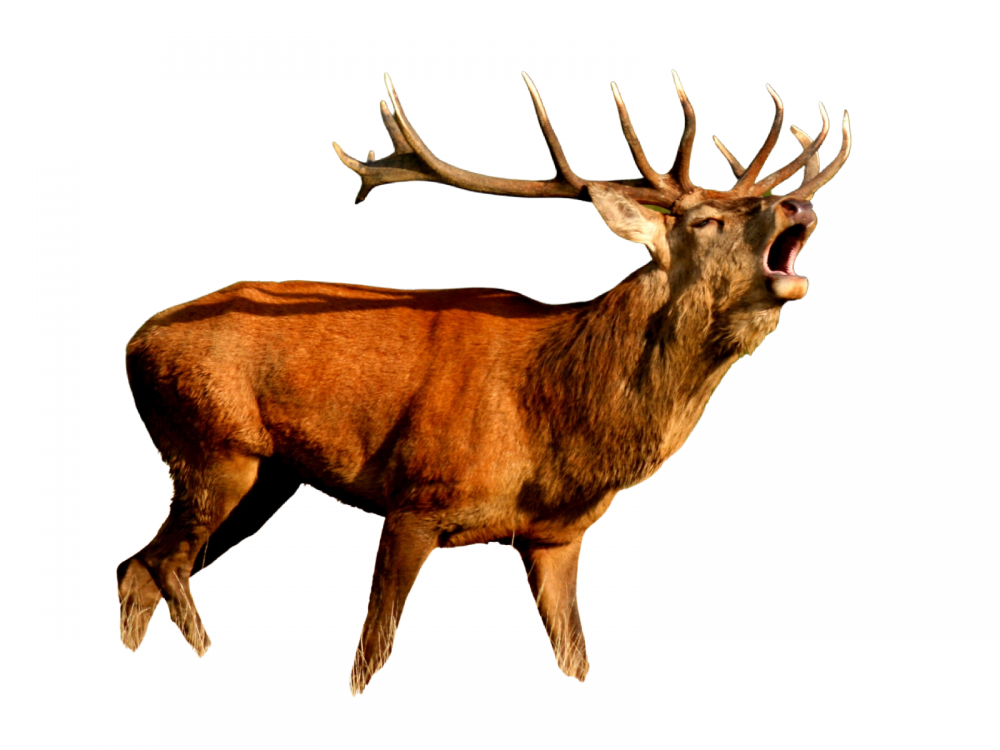 May 11, Wednesday, 4:30 - 5:30 MT

W1 – Crafting a Winning Nonfiction Book Proposal – Cindy Lambert
A winning book proposal is a tool that entices seven audiences (author, agent, editor, pub board, marketing, creative, and sales) to grasp a contagious vision for a book, and then equips them to successfully play their parts in placing the book into the hands of its ideal readership. (Open to everyone but prerequisite for those accepted for Cindy's clinic.)

W2 – Solving Plot Problems – Dave Lambert
Every novel is a mystery novel. By that I mean that every reader is reading to find something out—and when they no longer care about that something, they stop reading. The way you keep their interest piqued is by the skillful use of plotting. In this class, we'll examine many aspects of this all-important fiction technique: Handling suspense; handling conflict, confrontation, and compulsion; foreshadowing; plot structure; the intersection of plot and character; and common mistakes. (Open to everyone but a prerequisite for those accepted for Dave's clinic.)

W3 – Incorporating God's Word to Transform Lives – Michael Klassen
God's Word is living and active, sharper than any two-edged sword. Use it correctly, and lives will be changed. Use it incorrectly, and you will hurt your readers. During this workshop you'll explore essential dos and don'ts, take a brief look at Bible translations, and examine best practices.

W4 – Faithful & Effective Writing/Publishing in a Postmodern Context – Catherine Lawton
We are living in a time of upheavals in society and church—but also of hopeful promise. Get an overview of both postmodernism and "the great emergence" and how to write and publish into this maelstrom in a way that will be heard and will be life-giving.

W5 – How Not to Talk to an Agent or Publisher – Lori Wildenberg
Gain some tips on things to avoid doing or saying when pitching your book to an agent or publisher.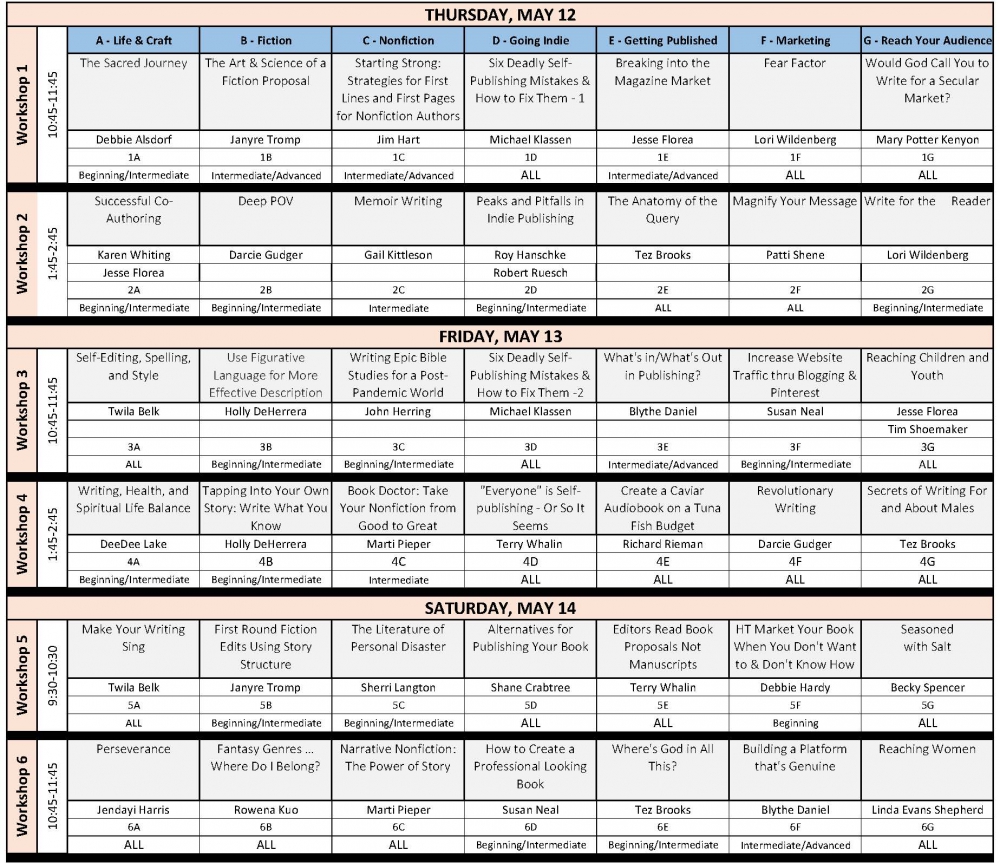 Click here for a PDF you can print of the above spreadsheet.
May 12, Thursday, 10:45 - 11:45 MT

1A – The Sacred Journey – Debbie Alsdorf
As Christian communicators we are all on a sacred journey. Part of the calling is to use what we've learned and the paths we have walked to help others. This session will help you identify your "why" and examine the "how" of writing from personal growth and experience. You will leave equipped to be a storyteller of redeeming value.

1B – The Art & Science of a Fiction Proposal – Janyre Tromp
A proposal is key to winning a publisher. But how does an author capitalize on the opportunity? In this workshop, you'll learn the secrets to developing a fiction proposal from Janyre Tromp, who has intimate knowledge of 3 of the 4 sides of the publishing world—author, marketing manager, and editorial representative.

1C – Starting Strong: Strategies for First Lines and First Pages for Nonfiction Authors – Jim Hart
Jim will cover the importance of knowing what the first pages of your nonfiction books should accomplish such as: hooking your reader, informing your reader, persuading your reader. Along with discussing Strategies for Strong First Lines, Jim will also talk about the importance of knowing how to begin unpacking your Big Idea in the early pages of your book.

1D – Six Deadly Self-Publishing Mistakes & How to Fix Them, Part 1 - Michael Klassen
Publishing your own book may sound like a great idea – and it can be – IF you know how to avoid 6 major pitfalls that keep many self-published books from "WOW!"ing their audiences. Michael will identify deadly mistakes made by many self-published authors and provide simple fixes that will give your book a competitive advance in the marketplace. Topics will include:
5 commitments you can make that will endear you to your audience forever
5 unbreakable rules for self-publishing with excellence (and ways to follow them without breaking the bank)
3 key benchmarks that will help you keep your expectations in check while pursuing big dreams and goals

1E – Breaking into the Magazine Market – Jesse Florea
This workshop looks at the reasons you may want to write for periodicals, which include the 3P's (not to be confused with the C-3PO's): profit, platform and portfolio. It's also a great way to express your passion. (Hey, that's a fourth P!) We'll talk about how to capture an editor's attention, practice crafting an effective lead, learn about different types of periodicals and stories, and discover how good interviewing skills can open doors to big-time periodicals.

1F – Fear Factor – Lori Wildenberg
If you are a writer, then you will most likely be a speaker. And . . . it doesn't have to be scary. Whether you are speaking at your local library, neighborhood book club, or to a large audience you will learn surefire tips to communicate your message comfortably and effectively to your audience.

1G – Would God Call You to Write for a Secular Market? – Mary Potter Kenyon
There are "Christian writers" and then there are writers who are Christians, and there is a marketplace for both. Would God ever call a Christian to write for a secular market, and how can we know where our writing belongs? Mary Potter Kenyon's five books were published by a secular publisher, and she once worked as a reporter for a secular newspaper. Yet, because of her stories, God hit the front page in her small-town newspaper countless times, and readers of her book, Refined By Fire: A Journey of Grief and Grace, learn how faith got her through a dark period in her life. In this 50-minute power point, Mary shares how God has led her down this writing path, demonstrating with concrete examples of faith-filled pieces written to reach an audience that might not set foot in a Christian bookstore or have a personal relationship with Jesus. Are we preaching to the audience that already knows Christ, or do we need more Christian authors in the secular marketplace? This presentation will include common markets that aren't necessarily labeled as "Christian" ones.
May 12, Thursday, 1:45 - 2:45 MT
2A – Successful Co-Authoring – Jesse Florea and Karen Whiting
Co-writing a project brings challenges, but it can also bring greater creativity, accountability, and result in a better final product. In this workshop, Jesse Florea and Karen Whiting share from their experiences in co-authoring several book projects. It will cover utilizing each other's strengths, workload, workflow, and other aspects of a successful co-writing process.

2B – Deep POV – Darcie Gudger
Deep POV transforms readers from passive observers to participants thus engaging them in your story. Many writers are mystified by this technique. Join me as I decode this elusive approach.

2C – Memoir Writing – Gail Kittleson
Offers hands-on writing exercises to stir the imagination and motivate creative approaches to one's life story. In-class activities provide a taste of the writing process and strategies for further work.

2D – Peaks and Pitfalls in Indie Publishing – Robert N. Ruesch and Roy Hanschke
Let's face it, there are more and more companies willing to publish your book. Who do you choose? Why would you choose that company? What will the publisher and printer do to get your product to market, and then what? Bob is a three-time published author. Roy is a dynamic speaker, radio personality, and author. Both will share the pitfalls and the peaks that turned into perks in their publishing journey.

2E – The Anatomy of the Query – Tez Brooks
Learn the elements you need to include to ensure your query letter says everything you need it to say, and nothing more! This simple checklist will help writers get noticed with a query that stands out from the rest.

2F – Magnify Your Message – Patti Shene
Behind every good book, whether nonfiction or novel, is a message. Magnify your message over the airwaves. Learn how to create an engaging podcast and how to share your message effectively as a podcast guest.

2G – Write for the Reader – Lori Wildenberg
Why do you write? What is the message God has put on your heart? Who needs to hear it? No book (other than the Bible) is for everyone. Discover how to write to your reader to expand your reach.
---
May 13, Friday, 10:45 - 11:45 MT
3A – Self-Editing, Spelling, and Style – Twila Belk
Why is self-editing important? What should we look for when editing our project? What are some of the commonly misspelled words that are often overlooked? Where can we go for answers on style issues? In this class you'll learn about writing problems, get the help of a writer's checklist, and receive recommendations for valuable resources. When equipped with this knowledge, you can take your work to a new level.

3B – Use Figurative Language for More Effective Description – Holly DeHerrera
Every writer is told "Show, Don't Tell." But do you know how to move away from telling and into showing the story? This workshop teaches you how to create a story that breaks away from cliché and flat description to writing vibrant, breathing scenes that draw in readers on a multi-sensory level.

3C – Writing Epic Bible Studies for a Post-Pandemic World – Dr. John Herring
The obvious: The world has changed due to COVID-19 and its variants. As a result, many students of the Bible have had to adapt to new ways of learning the timeless stories and truths contained therein. In this workshop, we will examine new ways of engaging learners, connecting them in ways that best fit the new paradigm of life we find ourselves living. We will discuss leading readers in Bible exploration that makes sense for our times. Finally, we will share practical tips for leading our Bible study participants from merely investigating the Bible to life-changing transformation.

3D – Six Deadly Self-Publishing Mistakes & How to Fix Them, Part 2 – Michael Klassen
Publishing your own book may sound like a great idea – and it can be – IF you know how to avoid 6 major pitfalls that keep many self-published books from "WOW!"ing their audiences. Michael will identify deadly mistakes made by many self-published authors and provide simple fixes that will give your book a competitive advance in the marketplace. Topics will include:
5 commitments you can make that will endear you to your audience forever
5 unbreakable rules for self-publishing with excellence (and ways to follow them without breaking the bank)
3 key benchmarks that will help you keep your expectations in check while pursuing big dreams and goals

3E – What's In/What's Out in Publishing? – Blythe Daniel
Do you feel like you hit roadblocks when what you want to publish comes back as "That's not what we're looking for" or "We don't spend marketing dollars that way"? What is IN and what is OUT in publishing? This workshop is designed to give you this perspective from a literary agent on both editorial and marketing strategies. We'll look at topics, techniques, and time-tested ways of publishing and marketing what's selling. This applies to new writers, writers who have previously published, and established writers.

3F – Increase Website Traffic thru Blogging & Pinterest – Susan Neal
Authors want to obtain higher book sales. To gain that traction, they can market their books through media, retailers, and consumers. Media coverage spreads the word about a book. Retailers make the book available for readers to purchase. When more readers know a book exists, book sales rise. Taking a largescale marketing approach to media, retailers, and consumers will stretch your book's visibility.

3G – Reaching Children & Youth (two mini workshops)
Do's and Don'ts of Writing for Children – Jesse Florea
Kids are creative, funny, and thoughtful little humans. To write for children, your stories should be like them—creative, thoughtful, and funny. Kids are child-like, not childish. This workshop will help you think and be like a child. We'll talk about who kids are, look at cultural trends, and uncover tips to capture a reader's attention while playing by the rules of writing. By being a child, you'll have a better chance of creating stories that will catch an editor's eye and eventually entertain a child.
Reaching Youth with Your Writing – Tim Shoemaker
Christian fiction for youth often has a reputation for being unbelievable, preachy, and downright hokey. We'll look at how to avoid those traps so you can reach the youth market with the story God has put on your heart.
May 13, Friday, 1:45 - 2:45 MT
4A – Writing, Health, and Spiritual Life Balance – DeeDee Lake
Travel on an airplane? The first thing we hear are instructions to take care of ourselves before trying to help another passenger. The same is true as a Christian author. We need to keep a balance in our lives to remain healthy and able to create for the Creator. We can have it all, but not at the same time. Learn how to set boundaries and keep yourself healthy, creative, and close to the Savior.

4B – Tapping Into Your Own Story: Write What You Know – Holly DeHerrera
Writers are advised to "write what you know," which is great advice. Yet how do you draw on your life experiences in your fiction? Discover how to create authentic characters, moments, descriptions, and problems by tapping into your own story. This workshop teaches you how to draw on that wealth of story inspiration and weave it into your work-in-progress.

4C – Book Doctor: Take Your Nonfiction from Good to Great – Marti Pieper
Marti applies both her writing and editing experience to expose common errors in nonfiction manuscripts and offers practical help. The workshop includes tips on identifying your unique selling point and target audience, proposal-writing, and eliminating the common flaws that leave manuscripts lingering in the slush pile.

4D – "Everyone" is Self-publishing – Or So It Seems – Terry Whalin
Should you? This workshop will cover five terrible reasons to self-publish, ten reasons to self-publish, plus seven keys to successful self-publishing. There are many pitfalls on the path to publishing and this workshop will explore the options and possibilities. The answers are different for each writer. Often the answer is not black and white but shades of grey. This workshop will help bring definition to what is going on in the publishing world and help you make a wise choice.

4E – Create a Caviar Audiobook on a Tuna Fish Budget – Richard Reiman
If you are considering creating an audiobook, this session is for you! You will get the key steps you need to take and plenty of insider tips and tricks of the trade from both the audiobook producer and author's perspective, including:
Essential steps to create an audiobook
Reducing the costs of producing an audiobook
Determining if you should hire a narrator or voice your own audiobook
Promoting and marketing your audiobook

4F – Revolutionary Writing – Darcie Gudger
We are living in a "such a time as this" where your God-given writing skills can be used to make a difference. In this workshop, we will see how a few writers sparked the revolution that built the greatest country in the world and how you can hone your skills to preserve it.

4G – Secrets of Writing for and About Males – Tez Brooks
Learn the unique challenges of writing for the male population and the features to implement so you can get your book read by men.
---
May 14, Saturday, 9:30 - 10:30 MT
5A – Make Your Writing Sing – Twila Belk
Your writing doesn't have to be dull and monotonous. Give your words rhythm. Create melodies. Build crescendos. Learn strategies for how to make your writing sing and give your reader an enjoyable and memorable experience.

5B – First Round Fiction Edits Using Story Structure – Janyre Tromp
Structure is key to a successful novel. In this workshop Janyre, a twenty-year veteran editor and novelist, discusses how to use structure to edit your manuscript like a developmental editor.

5C – The Literature of Personal Disaster – Sherri Langton
Is a story good just because it relates a horrific event? In this workshop we'll discuss why we write about tragedy and how we make it real to the reader as well as redemptive.

5D – Alternatives for Publishing Your Book - Shane Crabtree
Many authors just assume that traditional publishing or self-publishing is the only way to publish their books. But there are some downsides with the traditional and self-publishing models that you need to know. And there are several alternatives to self-publishing your book that provide you with more control over the editing and design of the book, enable you to keep the intellectual rights, and provide a much higher revenue for your book. More and more authors are using Hybrid Publishing to publish their books. Come and learn more about how it works.

5E – Editors Read Book Proposals Not Manuscripts – Terry Whalin
How do you write a book proposal? What makes an excellent proposal and what makes a terrible one? Publishers receive thousands of these proposals. How do you determine which publishers are interested in your particular proposal? Terry Whalin has reviewed thousands of proposals from fiction and nonfiction writers. As a former literary agent and a current acquisitions editor, Terry knows exactly what he needs to secure a book contract for the writer—but often these proposals don't include the critical elements. This session includes practical how-to information about proposal writing from the editor's perspective. Terry has written many book proposals and his proposals have had great success in the Christian and general marketplace.

5F – How to Market Your Book When You Don't Want to and Don't Know How – Debbie Hardy
The title says it all. Most of us don't know how to market and would rather not. Let's learn how to sell your book.

5G – Seasoned with Salt – Becky Spencer
We have a message that changes lives, but we can't force feed people whose lifestyle is counter to truth. Learn how to lure them with the bait of compassion without compromise.
May 14, Saturday, 10:45 - 11:45 MT
6A – Perseverance – Jendayi Harris
Learn the five enemies to finishing your project with a scriptural motivational boost! Your enemies of Doubt, Fear, Unworthiness, Distraction, and Disorganization are going down. In this workshop you'll learn how to overcome them successfully to move swiftly through your book project.

6B – Fantasy Genres . . . Where Do I Belong? – Rowena Kuo
How many fantasy genres are there, and where does your manuscript fit in? Can Science Fiction and Fantasy integrate in a successful novel? Discover the genres and subgenres of fantasy, where your novel would fall, your target audience, and ways to help your story find its niche.

6C – Narrative Nonfiction: The Power of Story – Marti Pieper
How can I make my nonfiction more compelling? How can truth and creativity coexist in my work? In this workshop,wich includes both practical tips and inspiring examples, Marti shares the basics of this popular genre. Learn how to transform your writing through the power of authentic storytellng while you catch – and keep – your readers.

6D – How to Create a Professional Looking Book – Susan Neal
This workshop walks a self-published author through the steps needed to create an industry standard, professional-looking book. Instructions include interior formatting (front and back matter, content) and cover design for print books. Also, included is a Metadata Checklist that reviews all the information required by the book industry supply chain (distributors, retailers, and consumers) to describe a book. Complete and accurate metadata is critical for a book to be discoverable and found by consumers.

6E – Where's God in All This? – Tez Brooks
Reality check—the Christian writing industry is still about business and God's okay with that. All the talk of branding yourself, promoting your book and negotiating deals can leave you disillusioned or even snarky. Whether you're a Christian writer or a writer who just happens to be Christian, you'll learn how to recognize when you need refreshment and time with the Lord. Together we'll refocus on the importance of the Holy Spirit's role in your writing career and why God has you here in the first place. Please bring your Bible to this class.

6F – Building a Platform that's Genuine – Blythe Daniel
With the needed emphasis on the community that an author has, how do you develop a platform that's genuine to you? What are the key areas that publishers look for when deciding to take on a writer and his/her book? Do you need different platforms if you write more than one genre? What is proven to be most effective? In this workshop, we'll look at what type of platform is needed today. We'll tackle the top questions writers have and why publishers need to see what you have to offer before moving forward with you, even previously published authors. Since platform has become so valuable, we'll look at how to maximize yours.

6G – Reaching Women – Linda Evans Shepherd
What if you knew the best online strategies to reach women with your message, book, or ministry? Join best-selling author and nonprofit founder of the Advanced Writers & Speakers Association, Linda Evans Shepherd, as she shares the latest and best ways to reach the women you long to share your heart with. New ideas as well as revived strategies that work.