Don't miss the pre-conference
workshops and zoom meetings. Link coming.
ALL times are Eastern.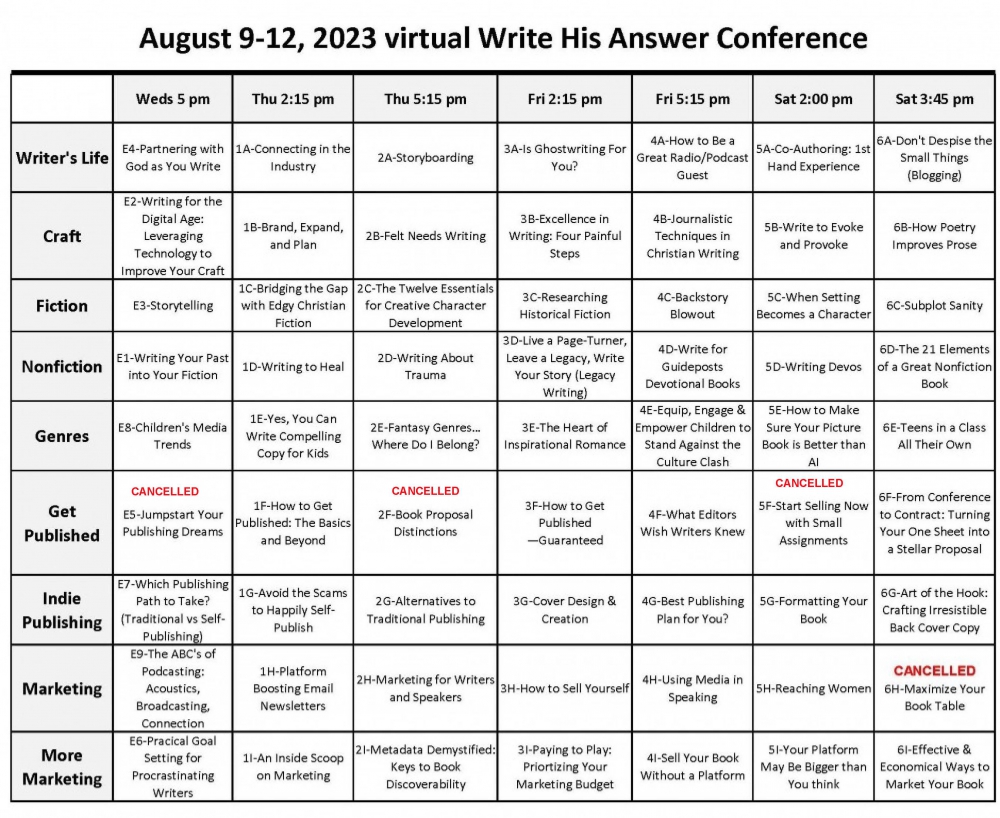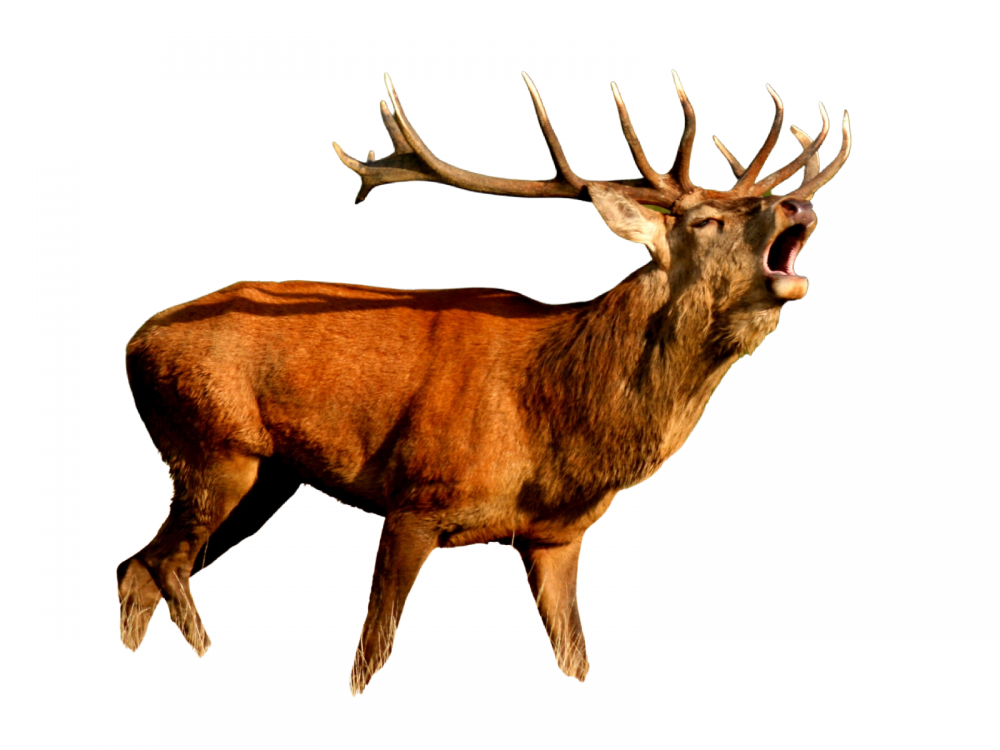 Click here for a pdf of the above speadsheet.
LEVELS: B (Beginner), I (Intermediate), A (Advanced)

Wednesday, August 9, 5:00 – 5:50
E1 – Writing Your Past Into Your Fiction – Susan Baganz
How we can and do use our past experiences, unresolved emotional issues, and pain in our writing to provide healing and hope as well as a cathartic outlet. ALL
E2 – Writing for the Digital Age: Leveraging Technology to Improve Your Craft – Michael Klassen
Artificial Intelligence is changing the way we think and communicate, and it's here to stay. And that's good news—if you know how to harness this powerful tool to make your writing more relevant than ever. Did you know that AI can cut your writing time in half? Discover how AI can revolutionize your writing and how to use it to:
1. Spark Your Creativity
2. Conduct Your Research
3. Improve Your Copywriting
4. Refine Your Writing
5. Add Humor, Sarcasm, or Style
6. Edit Your Work
7. Create Lists and Action Points
8. Evaluate Your Writing Skills
9. Outline Your Next Chapter, Book, or Speech
10. Tame the Social Media Beast
It's like hiring a personal assistant—for free!
We'll also take time to discuss copyrights and ethics
E3 – Storytelling – Karen Porter
Learn how to craft a story, about the story arc, and how important story structure is in fiction and especially non-fiction writing—as well as in speaking. Karen Porter's simple way to write and tell a story will help you learn how to put it together and get your punch line right. Use these techniques for adding illustrations and examples to your writing and speaking and for telling your own story. They may never remember your bio, but they'll never forget your story!
E4 – Partnering with God as You Write – Cheryl Ricker
It all starts and ends with God. Learn how journaling alongside other projects improves everything. Grow in your ability to listen to God's voice, align your heart with His, and figure out what He wants you to write.
E5 – Jumpstart Your Publishing Dreams – Terry Whalin Unable to be with us
Many people have dreams and desires about getting into print but they have no idea where to begin or how to create a plan. In this workshop, Terry provides a list of key steps along with seasoned advice for any writer. Whether the writer is a beginner or a pro, this workship is certain to stir their imaginations and plans in a fresh way long after the conference.
E6 – Practical Goal Setting for Procrastinating Writers – Robert Ruesch (Roy Hanschke unable to come)
OK, I finally got around to writing the description of this seminar, but maybe I should get some coffee first. No, I need to check email. Nope, I just need a nap! Does this sound familiar to you? We all procrastinate, but what if you had just a few practical skills to keep you on task? Roy and I will present three (3) practical steps to getting your writing in gear. Easy, peasy. We will even have seminar notes and personal stories to share about how we have put off what God is calling us as writers to do. So many things can and will block the privilege and honor of being called to write. Time to unblock and get started! We will be at the seminar, will you? Don't put off today what you can regret not doing. WRITE On! ALL
E7 – Which Publishing Path to Take? (Traditional vs Self-Publishing) – Michele Chynoweth
Learn from an award-winning, best-selling author (and marketing professional) who has been through it all! Michele Chynoweth originally believed (like most writers) that she had the next bestseller and would be discovered by a major publisher. After sending out several queries (and even winning the First Place prize in the Maryland Writers Association fiction contest), she finally gave up in frustration and self-published her first novel, putting her 30-plus years of experience as an advertising/marketing/public relations professional successfully to work. About a year later on the advice of another author, she submitted it to several Christian publishers and was offered a contract with a traditional publisher. She has since gone on to contract with a literary agent, and her novels are currently being published by a large New York publisher. Join her as she discusses all of the pros and cons of traditional vs. self-publishing when it comes to time, money, marketing, and more – and how to best approach each publishing path. Michele can talk about publishing from nearly every angle and hopes writers can learn both from her mistakes and success stories!
E8 – Children's Media Trends – Stephen O'Rear
Whether you write for children, or just want to connect with your own kids and grandkids, this survey course explores the most popular children's books, movies, streaming channels and video games of the past few years. How does new media influence our children's sense of humor, self-perception and values? And what happens when a "kids' show" develops a passionate adult fanbase? Includes insights from Plugged In, a top media review site for Christians. ALL
E9 – The ABC's of Podcasting – Acoustics, Broadcasting, Connection – Patti Shene
Would you like to host a podcast or be a podcast guest? Do you have a book or ministry to promote, a subject you are passionate about, or a skill to share? Learn the basics of this popular method of reaching an audience, from equipment needs, cost, and time investment, engaging broadcasting techniques of the interviewer and interviewee, to connecting with hosts/guests and attracting listeners. ALL
Thursday, August 10
Workshop 1 (Thursday, 2:15 - 3:05)
1A – Connecting in the Industry – DeeDee Lake
Literary industry is a relational business and connecting at the conference is your chance to meet industry peeps. God called you to write and then you realized He meant market it too. Now what? Meet The Connection Expert and learn some tips this extreme extrovert knows that will smooth your way to better interactions. B
1B – Brand, Expand, and Plan – Dr. Sharon Norris Elliott
Why do we know the CocaCola ribbon, the Nike swoosh, and the McDonald's golden arches in the shape of an "M" so well? Why do we know Beyonce, Dr. Martin Luther King, Jr., and Dr. Billy Graham? All of these companies and people have developed a recognizable brand. A strong brand draws in the audience, followers, listeners, and readers. This workshop teaches you how to brand yourself and how to develop your personal mission statement and tagline. It will start you thinking through your publishing plan for the future.
1C – Be BOLD! Bridging the Gap with Edgy Christian Fiction – Michele Chynoweth
Are you a writer who desires to serve God but also wants to write a novel that's down-to-earth, edgy, racy, raw…REAL? Are you concerned that it may not fit in either the Christian or secular worlds? St. Paul told us in his writings to be "bold" in our ministry. Why preach to the choir when there are so many who need your story or message but may not pick up your book to read it if you are afraid to write it? There's a way to write fiction that's still clean and Christian but passionate, not pablum. Michele Chynoweth, bestselling author of several edgy contemporary suspense novels that re-imagine Bible stories, will teach how we can write novels that come close to the line without going over it.
1D – Writing to Heal – Yvonne Ortega
In an imperfect world with imperfect people, you will experience harm, heartache, and hurt. These struggles become the foundation of processing your experiences to help others. Writing can jumpstart the healing journey. Yvonne reveals her own experiences to show how you, too, can share personal stories and:
Face harm, heartache, and hurt with God's strength.
Replace sadness and sorrow with God's peace.
Exchange a crushed spirit for the abundant life.
1E – Yes, You Can Write Compelling Copy for Kids – Marianne Hering
I'm going to say that word: COVID. During the pandemic, US kids lost a lot of reading mojo. We'll examine what makes a book or article easier to read for struggling readers, and at the same time, improve your writing skills overall. We'll examine paragraph length, sentence structure, vocabulary, and more. Find out the secrets of popular authors such as Mary Pope Osborne, Dave Pilkey, Rick Riordan, and well, me.
1F How to Get Published: The Basics and Beyond - Twila Belk
In this workshop, we'll discuss terminology, resources, industry relationships, opportunities, where to start, how to keep it going, and more.
1G – Avoid the Scams to Happily Self-Publish – Amy Deardon
Are you thinking of self-publishing? This talk gives an overview of the basics: editing, formatting, getting a cover and ISBN, and how to put your book online so you can go ahead to self-publish your book and ebook while avoiding costly mistakes.
1H – Platform Boosting Email Newsletters – Thomas Umstattd Jr.
The number of email subscribers you have is a key component publishers look at to measure your platform. In this class you will learn how to attract subscribers, design beautiful emails and create content that gets forwarded around the web.
1I – An Inside Scoop on Marketing – Stephanie Alton
Learn what a current marketing plan looks like, what an author is typically expected to do, and how you can prepare for it now.

Overwhelmed by all the choices?
Remember, you have until December 31, 2023,
to view the replays at NO additional cost.

Workshop 2 (Thursday, 5:15 - 6:05)

2A – Storyboarding – Dr. Sharon Norris Elliott
How to break your book into manageable bites. Bring a couple packs of various colored sticky notes, a new Sharpie, and your book idea to this seminar. Leave with a manageable plan for a sparkling proposal, the completion of your book, possibly a catchy title, and a great opening line to present to your prospective publisher.
2B – Felt Needs Writing – Jeanette Littleton
What do editors mean when they say they need articles or books that appeal to the readers' "felt needs"? This workshop will not only explain what these editors mean, but will help the conferee learn how to analyze an audience to find the needs that are prime topics for great articles and books. We'll explore the issues involved in appealing to these felt needs. An interactive workshop that attendees can start applying during the hour and during the rest of the conference.
2C – The Twelve Essential Elements for Creative Character Development – Michelle Lazurek
Have a great character in mind for your next children's book, short story, or YA novel, but don't know how to start creating one? In this interactive workshop, Michelle helps you create a dynamic main character that will help jumpstart your next writing project. B I
12 Questions to ask when creating character profiles
Four rules on creating page turning main characters
Exercise in creating an actual character from start to finish
2D – Writing About Trauma – Yvonne Ortega
Learn to assess where you are on your healing journey and readiness to write for others. Once you're healed from the trauma in your life, you can write to help others not only survive but thrive. Yvonne draws on personal and shared anecdotes and the timeless truths of God's Word to help you:
Distinguish between writing for therapy and writing for publication.
Recognize the writing pitfalls to avoid.
Share specific steps to help the writer who will ultimately do the same for the reader.
2E – Fantasy Genres … Where Do I Belong? – Rowena Kuo
How many fantasy genres are there, and where does your manuscript fit in? Can Science Fiction and Fantasy integrate in a successful novel? Discover the genres and subgenres of fantasy, where your novel would fall, your target audience, and ways to help your story find its niche.
2F – Book Proposal Distinctions – Terry Whalin Unable to be with us
Literary agents and pubishers receive thousands of submissions and send generic rejection letters. Terry has written two proposals which received six-figure advances. As an editor he has worked at three publishers and personally witnessed what he calls "a decision difference maker." In this workshop, Terry gives you insights which are not normally discussed with writers yet are critical to whether you receive a polite rejection or a book contract.
2G – Alternatives to Traditional Publishing – Larry Carpenter
Many authors think that traditional publishing is the only way to publish their book. Self-publishing is easier to do, but it's tough for self-published books to break into the bookstore market. The fastest segment in publishing is Hybrid Publishing. This process gives books the quality, sales and distribution, and marketing focus of a traditionally published book, but swings the pendulum of control and profitability away from the publisher and over to the author. Learn more about how this process works and enable yourself to make a wise decision as to how to publish your book.
2H – Marketing for Writers and Speakers – Karen Porter
Marketing techniques and methods have changed drastically with the emergence of the Internet. The information and advice you've read might already be out of date. Marketing expert Karen Porter will help you define your personal style and brand. From tag lines and mission statements to web presence in blogs, Twitter, and Facebook, you will learn how to market your message, your speaking ministry, and your book. Karen will help you build a toolbox of practical, useful, doable methods. You will leave this session with a personal plan.
2I – Metadata Demystified: The Keys to Book Discoverability – Catherine Lawton
Whether you're an author or a publisher, you must create, disseminate, and maintain metadata to help customers find and want to buy your book. Learn how best to focus your efforts for online book discovery and sales. I to A

Friday, August 11
Workshop 3 (Friday, 2:15 - 3:05)

3A – Is Ghostwriting for You? – Twila Belk
Have you ever wondered how ghostwriting works and whether it might be a good fit for you? In this workshop, we'll discuss the expectations of ghostwriters, the process of ghostwriting, advantages and disadvantages of ghostwriting, how to collaborate with an author, and more. Twila will not only share from personal experience, but she will also include lots of information from one of the most beloved ghostwriters in the industry, Cecil Murphey.
3B – Excellence in Writing: Four Painful Steps – Tim Riter
Examines four basic steps to improve your writing. Includes clarity, power, imagery, and audience orientation.
3C – Researching Historical Fiction: Writing a Window Into Another World – Lynn Dean & Gail Kittleson
Whether you're writing historical fiction, fantasy, memoir, or even "un-put-downable" nonfiction, the goal of research is to create windows that transport your reader into a new perspective, making your story a memorable and almost personal experience.
3D – Live a Page-Turner, Leave a Legacy, Write Your Story: An Introduction to Legacy Writing – Robin Grunder
Robin will share the importance of participating in an age-old tradition of passing on family history, wisdom, and stories of faith from one generation to the next; tips for how to get started and what to write; and ways to preserve and publish your legacy story. All
3E The Heart of Inspirational Romance - Susan Baganz
Explores just what constitutes an inspirational romance and how far a writer realistically go with the romance between a man and a woman. ALL
3F – How to Get Published - Guaranteed – Dr. James Hanak
This seminar will help you understand what newspaper editors are looking for. Over the last 45 years, James has been published in newspapers and periodicals nationwide over 500 times. (He stopped keeping count at 500.) All but a couple of his writings were printed in local and national newspapers (Philadelphia Inquirer, USA Today, National Educator, Philadelphia Daily News, and 50 other newspapers/periodicals). For a season, he was hired by the Philadelphia Inquirer to write articles for the editorial page from a biblical point of view. James says, "Because the vast majority of my writings were published, I am confident that, once you understand the dynamics of the editorial staff of America's newspapers, you will be published as well."
3G – Cover Design and Creation – Daniel Mawhinney
A picture is worth far more than a thousand words! You will learn how to make the best first impression possible using up-to-date graphic design principles, eye-capturing images, and high-impact text. This class will teach you the elements and fundamentals of successful cover creation. Be prepared to get your hands dirty while you discover your inner cover artist.
3H – How to Sell Yourself – Thomas Umstattd Jr.
Have you ever wondered why some great writers go unsold while poorly written books become bestsellers? The answer is simple and may change everything for your book. Learn if and when it is okay to "sell" yourself as a Christian and discover three simple techniques that will help you become a bestselling author without being "salesy."
3I – Paying to Play: Prioritizing Your Marketing Budget – Michele Chynoweth
Facebook ads, contests, conferences, trade shows, printed materials, book trailers, hiring a publicist, getting paid reviews on Kirkus, launch parties—there are many opportunities to market your book and not all of them are free. Whether you are self-published or working with an Indie or even big publisher, you probably know by now you have to do much of your own marketing … and some of it comes at a cost. Michele will help you figure out how to get the most bang for your buck when it comes to the money you spend on marketing!
Haven't found a way to be two places
at the same time?
Remember, you have until December 31, 2023,
to view the replays at NO additional cost.

Workshop 4 (Friday, 5:15 - 6:05)

4A – How to Be a Great Radio/Podcast Guest – Tez Brooks
Interview questions you should be prepared to answer, speaking tips for LIVE audiences, keeping listeners engaged, creating a press kit, making the host's job easy so he'll invite you back.
4B – Journalistic Techniques in Christian Writing – David Fessenden
The methods and mindset of the professional journalist can be of great service to a writer, especially a Christian writer. Such concepts as fairness, strict accuracy, and searching for the story behind the story can give your nonfiction writing a real edge.
4C – Backstory Blowout – Rowena Kuo
The eradication and successful reintegration of pesky backstory information. Have you ever been told to remove backstory from your novel, but you think your story needs it to make sense? Discover techniques to remove backstory and reincorporate it into your manuscript where and when it belongs.
4D – Write for Guideposts Devotional Books – Sandy Kirby Quandt
Dream of seeing your byline in a Guideposts devotional book? Then join me as we explore various elements Guideposts editors look for. We'll discuss how to share a first-person anecdote that draws readers into a spiritual takeaway, without being preachy. We'll discuss ways to take everyday moments and pull spiritual lessons from them in a relatable way. We'll discuss how to tell a compelling story with a spiritual takeaway in 300-375 words. You'll leave with a better understanding of what Guideposts looks for in their devotional books. ALL
4E – Equip, Engage, and Empower Children to Stand Against the Culture Clash – Joan Benson & Marjorie Wingert
When your biblical values vanish from public view, when Christian morality is attacked, and when the world calls good evil and evil good, what are Christians called to do? Stand, Speak, and Write! No longer can we remain fearful observers sheltering in place. With progressive ideologies targeting our children, we must not be silent. Learn ways to arm children with spiritual weapons through the power of God's truth so they will stand in the face of opposition. "Be on your guard; stand firm in the faith; be courageous; be strong. Do everything in love" (1 Cor. 16:13-14 NIV).
4F – What Editors Wish Writers Knew – Jeanette Littleton
Why do manuscripts get turned down? What are the most common mistakes writers make? How can a writer build a successful relationship with an editor? How many of the "musts" writers are taught really make that much difference to an editor? This workshop helps the writer better understand how to make a sale and make an editorial friend.
4G – Best Publishing Plan for You? – Catherine Lawton
A look at royalty houses (large and small), self-publishing companies, DIY (Do It Yourself), co-op publishing, and more.
4H – Using Media in Speaking – Karen Porter
This hands-on workshop will help speakers learn to use PowerPoint, Keynote, and other visual aids to enhance and enrich presentations. Your PowerPoint is not your presentation. Most speakers don't know how to use these valuable tools—go to any corporate board room and see how not to do it. Guaranteed to change your presentations, add flair and fun, and wow your audiences.
4I – Sell Your Book Without a Platform – Amy Deardon
Amazon wants to sell books. If you can convince Amazon that your book is a slam-dunk awesome read, then Amazon wants to sell YOUR book and will present it to thousands of targeted interested buyers. This lecture covers how to get Amazon to notice you — find the topics you love to write AND that people love to read, determine keywords to include in your title and back cover copy, use affordable pay-per-click ads to keep your book front and center to your audience, and learn some tricks to become a #1 Amazon category bestseller.

Saturday, August 12
Workshop 5 (Saturday, 2:00 - 2:50)
5A – Co-Authoring: 1st Hand Experience – Susan Baganz & DeeDee Lake
The joys and challenges of co-authoring a novel with tips to help on the journey should people want to try this. ALL
5B – Write to Evoke and Provoke – Catherine Lawton
Let your imagination be renewed. Dig deep to create writing that evokes goodness, beauty, and light; and that provokes hopeful perspectives, healthy relationships, and loving engagement in our world. All
5C – When Setting Becomes a Character – Gail Kittleson
In some stories, setting is so vital, we treat it almost as a character. This means setting plays an even more vital role, with a significant effect on our characters. Frequent storms, for example, may require careful treatment, as they affect our characters in several ways. Explore how to deepen and enhance your setting and learn three ways to liven up your story.
5D – Writing Devos – Twila Belk
Not only are devotions a great way to break into the writing world, but they often reach a wider audience and have more of an impact than a 50,000-word book. Learn about the important elements of writing devotions and the opportunities available to you.
5E – How to Make Sure Your Picture Book is Better than AI – Marianne Hering
In this course, Marianne will help you understand the relationship between art and text. She'll answer these pressing questions: What is a mentor book and how can it help me? How do you make your illustrations and text complement each other? What role can typography play? How many words should I have per page? What should I communicate with words and what should the illustrations communicate? How can I find an illustrator? Is it ethical to use AI art?
5F – Start Selling Now with Small Assignments – Terry Whalin Unable to be with us
Many writers want to begin with a huge, best-selling book. Unfortunately these ideas are more fantasy than reality. This workshop will show writers the necessity of being faithful with the small assignments. Then,through his personal experience, Terry will show the participants how the small assignments can lead to some major magazine articles and full-length books. Terry continues writing book reviews and software reviews and other such smaller assignments. He will teach writers the reason to not ignore the details of this business.
5G – Formatting Your Book – Daniel Mawhinney
This is what makes your book reader-friendly! You will learn how to make the interior of both your paperback and digital versions of your book look great. While hiring a professional formatter is the best route to take to get the best results, you will learn how to acquire the necessary skills to format your own book(s) for zero cost.
5H – Reaching Women – Linda Evans Shepherd
What if you knew the best online strategies to reach women with your message, book, or ministry? Join best-selling author and nonprofit founder of the Advanced Writers & Speakers Association, Linda Evans Shepherd, as she shares the latest and best ways to reach the women you long to share your heart with. New ideas as well as revived strategies that work.
5I– Your Platform May Be Bigger than You Think – David Fessenden
Many authors have a larger and more diverse following of readers, and potential readers, than they are aware of. This workshop prepares you to conduct a brainstorming session to discover the contacts and promotional opportunities that may be right under your nose.
Missed a workshop you wanted to attend?
Remember, you have until December 31, 2023,
to view the replays at NO additional cost.

Workshop 6 (Saturday, 3:45 - 4:35)

6A – Don't Despise the Small Things (Blogging) – Sandy Kirby Quandt
With all the blogs out there, do we really need another one? If you believe God has placed mini messages on your heart to share through your writing, then the answer is yes! Although a few basics will be covered, this IS NOT a workshop about setting up your blog. I'll leave that to the experts. This workshop is about being faithful in the small things God entrusted you with. In this workshop, we'll look at elements that make your blog unique. We'll talk about being consistent, planning ahead, and organization. I'll share where to find ideas for posts and a few useful guidelines on writing posts that provide value to your readers. You'll leave with blogging insights to put into practice with your blog. All
6B – How Poetry Improves Prose – Tim Riter
Learn how basic aspects of poetry can be translated into our prose writing for greater beauty and effect. I to A
6C – Subplot Sanity – Amy Deardon
If subplots leave you confused, bring back some sanity. The narrative strands in a story can be categorized into five distinct types: main story, protagonist's hidden need, antagonist's story, gift at climax subplot, and protagonist's mirror subplot. Learn how to build a resonant story by developing each of these strands into narratives that weave and tangle delightfully.
6D – The 21 Elements of a Great Nonfiction Book – Tez Brooks
Learn what must be in your book in order to produce well-rounded nonfiction that satisfies readers and establishes you as an authority on the topic.
6E – Teens in a Class All Their Own – Jeanette Littleton
A closer look at the people for whom we are writing––teenagers. Specifics in fiction and non–fiction. This workshop also includes in–class exercises from actual magazine theme lists. We cover the teen market––and its needs––in depth and detail.
6F – From Conference to Contract: Turning Your One Sheet into a Stellar Proposal – Michelle Lazurek
You've gone to the workshops. You've met with publishers. They've shown interest in your book. So now what? In this workshop, Michelle shows you the five essential elements to flesh out your book idea and turn it into a proposal that captures a publisher's attention. At the end of the workshop, each attendee will receive the resources needed to create a proposal worthy of submission to agents and publishers. B I
6G – The Art of the Hook: Crafting Irresistible Back Cover Copy – Michael Klassen
You've written your book and now it's ready for the finishing touches. If you write a simple summary of your book for the back cover, you'll drive your potential readers away. In "The Art of the Hook: Crafting Irresistible Back Cover Copy," publisher Michael J. Klassen will share secrets that will help you learn
· The difference between fiction and nonfiction back cover copy
· The appropriate word count for your back cover
· How to write a compelling author bio
· The difference between your back cover copy and your Amazon product subscription
Your reader is asking one simple yet crucial question when considering whether or not to purchase your book. During this workshop, you'll learn how to answer the question.
6H – Maximize Your Book Table – George Porter – Cancelled
You can have a back-of-the-room book table – even if you don't have a book yet. George Porter will show you how. George manages an extensive book table with good organization and timesaving tricks of the trade. In this workshop, he will show you how to pick out and buy products, display hints, bundling ideas, credit cards, and so much more.
6I – Effective and Economical Ways to Market Your Book – Larry Carpenter & Shane Crabtree
Many authors write great books. But there's an old adage in publishing. "No one ever bought a book they had never heard of." Getting the word out is hard unless you know what you are doing. Effective consumer and trade marketing doesn't have to be expensive. We'll delve into all aspects of marketing, including Publicity, Platform Marketing, Social Media, Advertising, and others.